MRI May Not Add Value to Routine Breast Cancer Care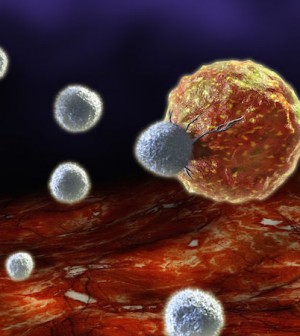 THURSDAY, Feb. 11Adding expensive MRI scans to diagnose breast cancer won't budge rates of repeat operations or the need for further mastectomy procedures, a new British study suggests.
The COMICE study, published in the Feb. 12 issue of The Lancet, randomly assigned 1,623 women,18 years or older, who had primary breast cancer to have either an MRI or no further scans. This took place after the women underwent triple assessment analysis and were scheduled for tumor-removal surgery.
About half the women were put in each group.
The researchers then followed up to see how many of the women had to undergo a repeat operation or further mastectomy within six months because the entire tumor had not been removed.
The additional MRI scans did not boost the re-operation rate, which was about 19 percent in both groups.
"In the analysis, we identified no difference in health-related quality of life between groups 12 months after initial surgery," wrote the researchers, led by Lindsay Turnbull of the Hull Royal Infirmary.
Adding MRI to the mix may have increased expenses, the research team noted. "In terms of total costs, results suggested a difference between the two trial groups, with the MRI group costing more than the no-MRI group, although the difference was not statistically significant," they said.
"In view of the similar clinical and health related quality-of-life outcomes of patients in both groups, we conclude that the addition of MRI to the conventional triple assessment might result in extra use of resources at the initial surgery period, with few or no benefits to saving resources or health outcomes, and the additional burden on patients to attend extra hospital visits," they wrote.
However, in an accompanying commentary, Dr. Elizabeth A. Morris, of Memorial Sloan-Kettering Cancer Center and Weill Cornell Medical College in New York City, cautioned that it may be too early to dispense with preoperative breast MRI. "Importantly, COMICE has shown that preoperative breast MRI might not be for all women and that routine breast MRI in the evaluation of early breast cancer, as managed by those participating in this study, does not decrease reoperation rates," she wrote.
More information:
The U.S. National Cancer Institute has more about breast cancer.
Source: HealthDay
​