Breast Milk Reduces Infections in Babies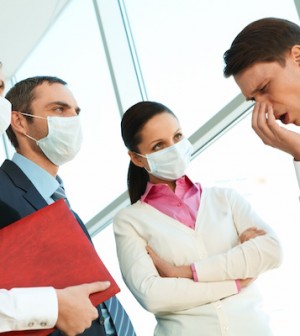 MONDAY, June 21 Breast-feeding seems to provide an immune system boost to infants, helping to prevent respiratory and gastrointestinal illnesses in babies, according to new research.
Babies who were breast-fed exclusively for 4 months, and then partially until they were 6 months old, had a reduced risk of respiratory and gastrointestinal infections compared to babies who had never been breast-fed, the Dutch team found.
"Exclusive breast-feeding reduces respiratory and gastrointestinal infections in infancy," said the study's senior author, Dr. Henriette Moll, a professor of pediatrics at Erasmus Medical Center's Sophia's Children's Hospital in Rotterdam.
"Our results support health policy strategies to promote exclusive breast-feeding for at least 4 months and preferably 6 months in industrialized countries. This is in line with the World Health Organization recommendations for 6 months of exclusive breast-feeding," said Moll.
Results of this study are published online June 21 and in the July print issue of Pediatrics.
Respiratory and gastrointestinal infections are the most common sources of illness in children, with respiratory illnesses affecting as many as 32.1 percent of infants and gastrointestinal illnesses occurring in up to 26.3 percent of infants, according to estimates in the study. Upper respiratory illnesses include colds, ear infections and throat infections, while lower respiratory infections include pneumonia, bronchitis and bronchiolitis.
Factors that may increase the risk of a baby developing a respiratory or gastrointestinal infection include birth weight, gestational age, race, socioeconomic status, the number of siblings, day-care attendance and whether or not a parent smokes, the study noted.
One factor that appeared to be protective was breast-feeding.
To assess the level of protection that breast-feeding might provide, the researchers mailed questionnaires to Dutch women whose infants were aged 6 to 12 months. The women were already participating in a long-term study designed to follow women and their offspring from early pregnancy through young adulthood.
Researchers received complete information about breast-feeding and infectious diseases contracted by the infants from almost 4,200 of the women, according to the study.
Twenty-nine percent of the infants were breast-fed for less than four months, while 25 percent were breast-fed from four to six months. Thirty-four percent breast-fed for six months or longer, and 12 percent didn't breast-feed at all. Only 1.4 percent of the babies who were breast-fed for six months were breast-fed exclusively during that time.
The researchers found that when infants were breast-fed exclusively for four months and then at least partially thereafter, the risk of respiratory and gastrointestinal illnesses was significantly reduced. Compared to babies who were never breast-fed, the risk of lower respiratory infections dropped by 50 percent, the risk of upper respiratory infections were reduced 35 percent and the risk of gastrointestinal illnesses dropped by 59 percent, according to the study.
Moll said that breast-feeding exclusively until 6 months appeared to provide even more benefit, but the number of babies who were breast-fed exclusively for that length of time was too low to reach statistical significance.
She said it wasn't clear from this study exactly why the breast-fed babies were better able to fend off infection, but suspects that some of the components of breast milk provide an immune system boost. For example, one component of breast milk is Iga (immune globulin A), a substance that is normally secreted at the lining of the respiratory tract and may have antimicrobial properties, according to Moll.
Adding formula or solid food to the diet might blunt the effect of the breast milk by disrupting the balance of nutrients provided by breast milk, said Moll.
"Respiratory and GI infections are very common in infants, and breast-feeding seems to positively impact the incidence of these infections," said Dr. Michael Green, an infectious disease specialist with Children's Hospital of Pittsburgh.
"Unless there is a medical contraindication, like an HIV infection, there's no absolute reason not to breast-feed and certainly lots and lots of great reasons to do so, and this study confirms the baby will get infectious disease benefits," said Green. But, he added that some women and families have a hard time breast-feeding, and they shouldn't be made to feel bad if they can't breast-feed for a long time.
He recommended that breast-feeding education be included as part of prenatal education so that women are well-prepared to breast-feed and know what problems they might encounter as well as how to deal with them.
More information
Learn more about the benefits of breast-feeding from the National Women's Health Information Center.
Source: HealthDay
​