Cooling Soldiers With Combat Injuries May Improve Survival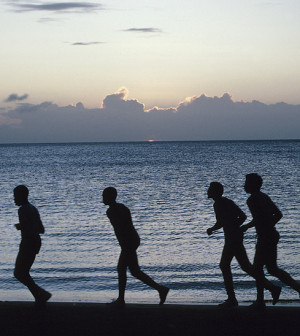 WEDNESDAY, Aug. 24Cooling the bodies of bleeding soldiers with high body temperatures could improve their chances of survival, according to a new study.
The findings might change the way that wounded U.S. soldiers in the heat of Afghanistan are treated, the researchers said.
To test the effects of heat stress, researchers at the Institute for Exercise and Environmental Medicine at Texas Health Presbyterian Hospital in Dallas used a small group of healthy, young volunteers.
The team monitored blood pressure, cardiac output (blood being pumped by the heart), and resistance to blood being pumped throughout the circulatory system (measured in part by blood vessel diameter) in 11 male volunteers in their 20s who wore a special suit that raised their internal and skin temperatures.
"What we've discovered suggests that when soldiers experience blood loss while heat-stressed, which is common in a combat environment, their capacity to maintain adequate blood pressure is greatly compromised," Craig Crandall, director of the IEEM's Thermoregulation Laboratory and a professor at UT Southwestern Medical Center, said in a Texas Health news release. "That quickly leads to unconsciousness and other potentially life-threatening medical problems."
The findings suggest that cooling heat-stressed soldiers with combat injuries could help them survive, Crandall said. This approach could also help injured firefighters, police officers and others.
"Fire fighters are often in high-heat environments when fighting structure fires," Crandall said. "But fire fighters and police officers are also outside wearing their full uniforms and are at higher than average risk for an injury that could involve bleeding. Construction workers who are outside in the summer heat of North Texas also face the same perils if they're injured on the job."
The study will be presented next week at the Advanced Technology Applications for Combat Casualty Care conference.
The study should be considered preliminary until published in a peer-reviewed journal.
More information
The MedlinePlus Medical Encyclopedia has more about bleeding.
Source: HealthDay
​