Estrogen Therapy May Be Linked to Kidney Stones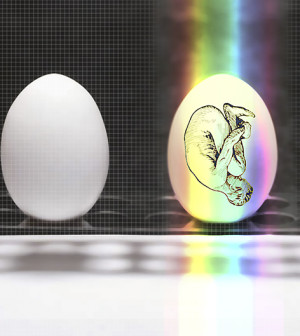 MONDAY, Oct. 11Estrogen therapy may increase the risk of kidney stones in postmenopausal women, a new study suggests.
For the study, researchers examined data on postmenopausal women in the United States, gathered from two trials in the Women's Health Initiative study.
One trial included 10,739 women who had had a hysterectomy, and who received either an estrogen-only treatment or placebo, and were followed for an average of 7.1 years. The other included 16,608 women without hysterectomy who received either estrogen plus progestin therapy or placebo, and who were followed for an average of 5.6 years.
There were 335 cases of kidney stones reported among women in the treatment groups and 284 cases among those in the placebo groups, the investigators found. The annual kidney stone incidence rate per 10,000 women per year was 39 in the treatment groups and 34 in the placebo groups, according to the report in the Oct. 11 issue of the Archives of Internal Medicine.
Kidney stone development was five times more common in women who had a history of kidney stones at the start of the trials, but development was not significantly altered by estrogen therapy, Dr. Naim M. Maalouf, of the University of Texas Southwestern Medical Center at Dallas, and colleagues reported.
The researchers found no significant link between kidney stone development and age, ethnicity, body- mass index (BMI), previous hormone treatment, coffee consumption or the use of thiazide diuretics.
The findings "indicate that estrogen therapy increases the risk of [kidney stones] in healthy postmenopausal women. The mechanisms underlying this higher propensity remain to be determined. In view of the sizable prevalence of [kidney stones] in this segment of the population" — between 5 percent and 7 percent in the United States, according to background information in the study — "these findings need to be considered in the decision-making process regarding postmenopausal estrogen use," the researchers concluded.
More information
The National Kidney Foundation has more about kidney stones.
Source: HealthDay
​