Late Preterm Births Increasing in U.S.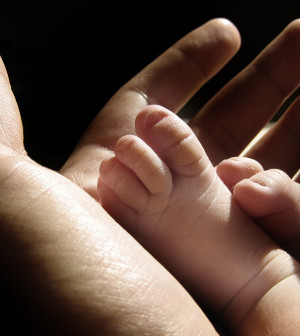 WEDNESDAY, Nov. 18The percentage of babies born preterm in the United States rose by more than 20 percent from 1990 to 2006, most delivered at the end of the preterm period, federal health officials report.
Every day in the United States, more than 900 of these "late preterm" births occur, adding up to 333,461 a year, according to the report, Born A Bit Too Early: Recent Trends in Late Preterm Births, issued by the U.S. National Center for Health Statistics.
"Late preterm birth, which are births … just before term at 34 to 36 weeks of gestation, have increased quite dramatically over the last decade and a half," said CDC epidemiologist Joyce A. Martin, the report's lead author.
"There are increases across the board," she said — in all age groups, for most race and ethnic groups and in all states. Overall, the rate of preterm births increased from 6.8 to 8.1 percent, according to the report.
The number of late preterm births resulting from induced labor or cesarean delivery has also increased, Martin said. The percentage of induced late preterm births more than doubled between 1990 and 2006, from 7.5 to 17.3 percent, according to the report. The percentage of late preterm births delivered by cesarean rose by 46 percent, from 23.5 to 34.3 percent.
The reasons for the increase in late preterm births isn't clear, Martin said.
"Studies have found increases in later preterm deliveries that are medically indicated, but other studies have found that there are some late preterm deliveries that are happening where there do not appear to be any medical reasons for the delivery," she said.
Improved technology has made identifying infants in distress easier, and that has also contributed to the increase, she said.
The rising rate of late preterm deliveries concerns health experts because the babies are not as healthy as babies delivered at full term, Martin said.
"They have higher morbidity rates," she said. "They are more likely to be delivered with respiratory problems. They have a higher death rate. They are more likely to have long-term neurological developmental problems, compared with infants delivered later."
Dr. Salih Yasin, the associate chairman of obstetrics and gynecology at the University of Miami Miller School of Medicine, said that "we are paying the price for our advances in medicine."
The ability to have good outcomes for increasing numbers of preterm infants has trickled down to make late preterm delivery more common, he said. The trend has been going on for a long time, he said.
"What we ended up having is feeling more comfortable with babies at a lower-than-term delivery," Yasin said. Facing a potential problem, he said, a doctor is inclined to deliver the baby rather than try to manage the problem in utero until the baby reaches full term.
But no infant should be delivered preterm unless there is a medical reason, Yasin said.
"Delivering a baby preemie is not the best practice for the mother or the baby," he said. "Just like picking a fruit before it's ripe: Even if it's ripe on the outside, it tastes not the same."
More information
The U.S. National Institute on Child Health and Human Development has more on preterm labor and birth.
Source: HealthDay
Are You Living with Psoriasis?
A growing knowledge of the skin disease called psoriasis is leading to greater treatment choices, including personalized therapies, the U.S. Food and Drug Administration reports.
Psoriasis is an immune system disorder that causes overproduction of skin cells, resulting in scaling, pain, swelling, redness and heat. The condition affects about 7.5 million Americans.
"As we better understand the disease, researchers know more about what specific factors to target in order to develop effective treatments," FDA dermatologist Dr. Melinda McCord said in an agency news release.
There is no cure for psoriasis, so the main goals of treatments are to stop skin cell overproduction and reduce inflammation. Current therapies include medicines applied to the skin (topical), light treatment (phototherapy), or drugs taken by mouth or given by injection.
Doctors used to take a step-by-step approach, starting patients with mild to moderate psoriasis on topical therapy. If that was ineffective, doctors moved on to phototherapy or drug treatment.
​