Health Highlights: Nov. 18, 2009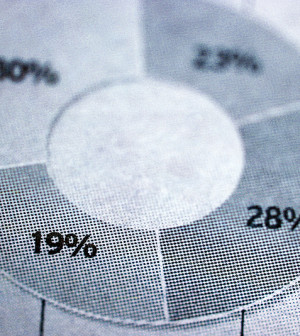 Here are some of the latest health and medical news developments, compiled by editors of HealthDay:
Computer Simulation Mimics Cat Brain
Researchers say they've created a computer simulation of a cat's cerebral cortex, which could prove an important step in efforts to develop computers that "think" like brains.
The simulation — which uses 147,456 processors and 144 terabytes of main memory — doesn't mean the computer thinks like a cat, but it does provide a model of how thoughts form in the brain and how a cat brain's one billion neurons and 10 trillion synapses work together, the Associated Press reported.
The research, by an IBM team, was presented at a supercomputer conference in Portland, Ore.
Previously, the same scientists simulated the full brain of a rat, 40 percent of a mouse's brain, and 1 percent of a human's cerebral cortex, the AP reported.
The ability to make computers think like brains could lead to major advances in various fields, including medicine and economics.
—–
Hyper-Resistant Bacteria Major Health Threat: Experts
New, hyper-resistant bacteria that are emerging because of continued overuse and misuse of antibiotics pose a serious global health threat, experts warned at a European conference.
"Some bacteria are becoming resistant to all treatments, forcing us to use older, toxic antibiotics or combinations of drugs that we are only familiar with on paper," Dominique Monnet, a European Center for Diseases Prevention and Control specialist on the issue, told Agence France Presse.
The problem is particularly serious in southern and eastern Europe, where antibiotic use is higher than anywhere else.
Monnet and a colleague surveyed about 100 European intensive care doctors and found that in the last six months more than half had treated at least one patient with a bacterial infection that was totally or almost totally resistant to antibiotics.
"Without effective antibiotics, modern medical treatments such as operations, transplants and intensive care will become impossible," warned ECDC director Zsuzsanna Jakab, AFP reported.
—–
Mini Pump Improves Heart Failure Patients' Survival: Study
A miniature heart pump improved survival among severe heart failure patients, say researchers who conducted the first trial of this kind of new-generation device as a permanent treatment.
The HeartMate II pushes blood continuously instead of simulating a heartbeat, which is what older pumps do, the Associated Press reported. Last year, the HeartMate II was approved for short-term use in patients awaiting a heart transplant.
This study tested the device as a permanent therapy in severe heart failure patients who weren't candidates for a heart transplant. After two years, 46 percent of patients who received the new pump were alive without having suffered a stroke or a device failure, compared with 11 percent of patients who received an older pump.
The study, sponsored by California-based device maker Thoratec Corp., was published in the New England Journal of Medicine and presented at an American Heart Association conference.
The HeartMate II costs $80,000 while surgery to implant the device and the related hospital stay is about $45,000, the AP reported.
—–
RockHard Dietary Supplement Recalled: FDA
A dietary supplement called "RockHard Weekend" has been recalled because it poses a potential health hazard, says the U.S. Food and Drug Administration.
The FDA said the product might contain sulfoaildenafil, an analogue of sildenafil, which is approved to treat erectile dysfunction. Sulfoaildenafil can interact with some prescription drugs and lower blood pressure to dangerous levels, United Press International reported.
The voluntary recall by RockHard Laboratories of Atlanta includes "RockHard Weekend" in blister packs with an expiration of "10/11," "3/12" or "8/12"; in three-count bottles with an expiration date of "09/12," and in eight-count bottles with an expiration date of "06/12."
For more information, consumers can contact RockHard Laboratories at 800-562-0543.
—–
Microsoft Co-Founder Diagnosed With Lymphoma
Microsoft co-founder Paul Allen, 56, has been diagnosed with non-Hodgkin's lymphoma, according to an email sent by his sister to employees of Allen's investment company, Vulcan.
"Paul is feeling O.K. and remains upbeat," Jody Allen, Vulcan's chief executive, wrote in the message, The New York Times reported. "He continues to work and he has no plans to change his role at Vulcan. His health comes first, though, and we'll be sure that nothing intrudes on that."
The diagnosis of diffuse large B-cell lymphoma was made this month. It's a relatively common form of lymphoma.
In 1983, Paul Allen was diagnosed with Hodgkin's disease and left Microsoft to undergo radiation therapy and a bone marrow transplant. He never returned to day-to-day operations at Microsoft, but his stock in the company made him the 17th richest man in the United States, The Times reported.
​