Health Highlights: July 7, 2010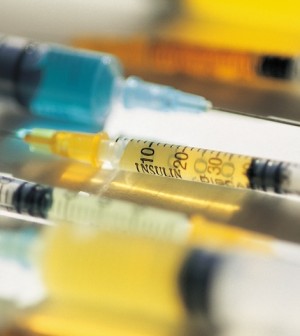 Here are some of the latest health and medical news developments, compiled by the editors of HealthDay:
FDA Okays Mini Eye Telescope for Macular Degeneration
A tiny telescope that can be implanted inside the eye in order to improve vision in people with age-related macular degeneration has been approved by the U.S. Food and Drug Administration.
Macular degeneration, the leading cause of blindness in older adults, causes the gradual loss of central vision.
The Implantable Miniature Telescope is surgically implanted in one eye in order to improve central vision, while the other eye is left as it is in order to provide the patient with peripheral vision. The brain fuses the input from both eyes, the Associated Press reported.
In its approval of the new device, the FDA noted that patients require post-implantation therapy to learn how to use the miniature telescope.
FDA approval was based on a study finding that 90 percent of patients who received the device showed a vision improvement of at least two lines on an eye chart, and about 75 percent went from severe to moderate vision impairment, the AP reported.
California-based manufacturer VisionCare said the miniature telescope costs $15,000. That doesn't include surgery and rehabilitation fees.
—–
Neck Measurement Reveals Overweight, Obese Children: Study
A measure of neck circumference could offer an alternative to using body mass index (BMI) to determine if children are overweight or obese, says a new study.
U.S. researchers measured the most prominent part of the necks of 1,102 children and developed measurements associated with overweight or obesity, CNN reported.
For example, they found that a 6-year-old boy with a neck circumference greater than 11.2 inches was 3.6 times more likely to be overweight or obese than a boy with a smaller neck circumference.
Taking a child's neck measurement is simple and inexpensive, and could predict health problems such as sleep apnea, according to lead author Dr. Olubukola Nafiu, an assistant professor of pediatric anesthesia at the University of Michigan Medical School in Ann Arbor, CNN reported.
The study appears in the journal Pediatrics.
—–
Gerontologist Who Coined Word 'Ageism' Dies at Age 83
The American gerontologist and psychiatrist who coined the term "ageism" died Sunday in New York City.
Dr. Robert Butler, 83, died of leukemia at Mount Sinai Medical Center, according to his daughter Christine Butler, the Associated Press reported.
Butler, who was founding director of the U.S. National Institute on Aging, wrote a number of books on aging. Perhaps the most famous was the 1976 Pulitzer Prize-winning Why Survive: Being Old in America.
In 1968, Butler created the word "ageism" to describe discrimination against older people.
Among his many achievements, Butler played a key role in research proving that senility was not a normal part of aging, but rather a result of disease, the AP reported. He was also founding chairman of the United States' first department of geriatrics, at the Mount Sinai School of Medicine.
​