Could Hot Weather Affect Results of a Colorectal Cancer Test?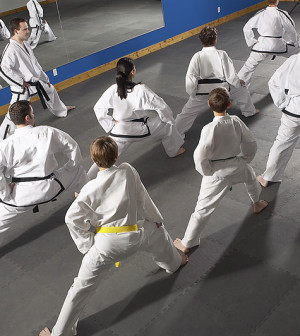 WEDNESDAY, July 7An immunochemical test used to detect signs of colorectal cancer is less accurate when done in the summer than in cooler times of the year, Italian researchers report.
Although the particular brand of test used in the study — the OC-Hemodia test — is not used in the United States, the findings are of interest to U.S. researchers because immunochemical fecal occult blood tests are gradually replacing the conventional stool test for colorectal cancer, according to the report published in the July 6 online edition of Gut.
Cancers of the colon or rectum generally have a good prognosis when caught early, and the most common, non-invasive way to detect it is a procedure known as the fecal occult blood test, or FOBT, which looks for blood hidden in the stool.
In Italy — unlike the United States — the conventional procedure is an immunochemical fecal occult blood test. In this study, researchers noted that blood samples, if present, appeared less stable at higher temperatures — something that may have implications for similar U.S.-based tests.
However, the study has important limitations in terms of the U.S. population, one expert noted.
Dr. Durado Brooks, director of prostate and colorectal cancer at the American Cancer Society, said that the Italian researchers "looked at only one test, [and] there are a number these tests on the market."
Moreover, the OC-Hemodia test is not approved by the U.S. Food and Drug Administration and is thus not available in the United States, he added.
Brooks also noted that most immunochemical fecal occult blood tests used in the United States require several samples, as opposed to the single sample of the OC-Hemodia test. Therefore, having several samples tested may lessen the problem of inaccurate results, if they exist, he said.
"So how relevant this is to other immunochemical fecal occult blood tests used in the U.S. is open to question," Brooks said. "But I think it's something investigators here might want to consider looking at and whether it is relevant to tests being used in the U.S."
In the United States, the conventional tool for non-invasive colorectal cancer screening was traditionally the guaiac fecal occult blood test, which involves testing stool smears for hidden blood. However, since 2004, the U.S. Food and Drug Administration has approved many immunochemical fecal blood tests for marketing. Many U.S. health systems, in fact, consider a series of the immunochemical screens best practice.
This is partly because conventional FOBTs require complex dietary restrictions that make it hard for some patients to comply. Patients are not supposed to eat meat, cantaloupe, vitamin C, anti-inflammatory drugs, citrus fruits and various other foods and supplements for three days before the test, and false positives can result if the patient inadvertently consumes certain foods, vitamins or drugs in the days before the test.
For the Italian study, lead researcher Dr. Grazia Grazzini, from the screening unit at the Cancer Prevention and Research Institute in Florence, and colleagues looked at the effect of temperature on the accuracy of fecal occult blood tests among individuals in the Italian national screening program in Florence over several seasons.
The investigators included temperature variations between sampling and the return of the test sample, which took about a week. They also accounted for the amount of time that the samples were in the laboratory refrigerator, which was about four days.
In all, they looked at 199,654 tests. Each sample was tested for hemoglobin (Hb) levels, which is the protein in blood that colors it red.
Grazzini's team found that hemoglobin levels were significantly lower in the summer months. Hb levels averaged 27.6 nanograms per milliliter (ng/mL) in spring, 25.2 ng/mL in summer, 29.2 ng/mL in autumn and 29.5 ng/mL in winter.
Accordingly, tests done in summer had a 17 percent lower probability of testing positive for signs of colon cancer compared with tests done in winter. In fact, every one degree Celsius increase in temperature reduced the probability of a positive result by 0.7 percent, the researchers found.
In all, tests done in summer were 13 percent less likely to pick up signs of cancer than tests done in winter, Grazzini's group found. "During the summer, significant [cancerous changes] will be missed," the authors warned, noting that this could have serious implications for the risk of interval cancers, which are cancers that develop between screenings.
"This is the first study that investigated about stability of immunochemical fecal occult blood tests related to ambient temperature. These results will have important implications for the organization of immunochemical fecal occult blood test-based screening programs, particularly in countries with high ambient temperatures," Grazzini stated.
"It is important to consider stability of immunochemical fecal occult blood tests for the quality assurance of the colorectal screening program," Grazzini added. "Immunochemical fecal occult blood tests showed in the past very good performance for early diagnosis of colorectal cancer. For this reason, our results will allow for improving stability of fecal samples and therefore quality of [the] screening program."
Among other things, the researchers recommended refrigerating samples directly after testing and during transportation to a lab.
More information
For more information on colorectal cancer, visit the American Cancer Society.
Source: HealthDay
​