Diuretics Still Best Treatment for High Blood Pressure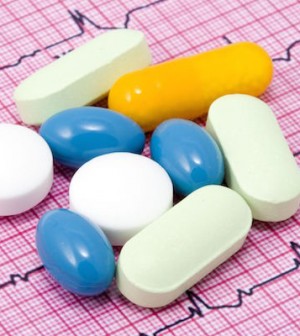 WEDNESDAY, Nov. 18Tried-and-true diuretics maintain their status as the best first-line treatment in older men and women with high blood pressure, new research concludes.
The thiazide-type diuretic chlorthalidone outshone three other treatments — a calcium channel blocker, an ACE inhibitor and an alpha-receptor blocker — in most areas, especially in lowering the incidence of stroke and heart failure, according to the most current data from a large ongoing study known as ALLHAT (Antihypertensive and Lipid-Lowering Treatment to Prevent Heart Attack Trial).
"We believe thiazide-type diuretics should still be preferred," said study investigator Dr. William Cushman, professor and chief of preventive medicine at the Veterans Affairs Medical Center in Memphis, Tenn., at a news conference on the findings Wednesday at the annual meeting of the American Heart Association (AHA) in Orlando, Fla.
"The message is largely unchanged, and the main message is that treating hypertension [high blood pressure] is very necessary," added Dr. Clyde Yancy, president of the AHA. "Treating hypertension with chlorthalidone resulted in a significant reduction in heart failure and stroke."
The original trial, begun in 1994, involved more than 42,000 patients with hypertension and at least one other risk factor for cardiovascular disease. The participants were randomly assigned to take one of the following anti-hypertensive drugs: chlorthalidone (the diuretic), amlodipine besylate (the calcium channel blocker), doxazosin mesylate (the alpha blocker) or lisinopril (an ACE inhibitor).
The five-year follow-up, which ended in 2002, was intended to see if new differences emerged with long-term use of the medications, especially regarding coronary heart disease, total mortality, heart failure and aggregate cardiovascular disease.
"This is the largest hypertension trial to date," Cushman said.
Earlier results from ALLHAT had also found that diuretics were as good or better than other blood pressure-lowering drugs for treating hypertension in patients with metabolic syndrome (a collection of factors that put people at risk of heart disease), especially black patients.
"None of the newer drugs were superior to chlorthalidone for reducing death from cardiovascular disease or end-stage renal disease, although the calcium channel blocker was very similar," Cushman stated.
Strokes were much more common in black study participants taking the newer drugs, and patients on the calcium channel blocker had much higher rates of heart failure.
Cushman also presented some 10-year follow-up data, which were essentially the same as the five-year data. No new adverse events cropped up, he noted.
"Chlorthalidone treatment is superior to each in preventing one or more major cardiovascular events as long as participants continued taking the drug," he said.
More information
The American Heart Association has more on high blood pressure.
Source: HealthDay
​