Scientists Find Stem Cells in Hair That Can Become Skin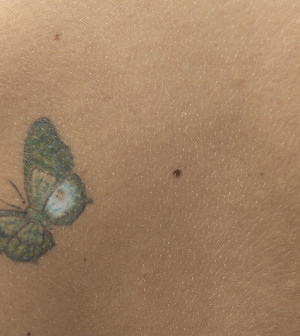 THURSDAY, March 11Scientists have found a type of stem cell tucked away in hair follicles that is capable of morphing into all three types of skin cells.
"They are saying they have found the earliest stem cell, in the hair follicles, which actually leads to making epidermis, sebaceous tissue and hair follicles," explained Paul Sanberg, distinguished professor of neurosurgery and director of the University of South Florida Center for Aging and Brain Repair in Tampa. "These cells in adult hair follicles are, in fact, helping to make new skin."
"If we understand the biology better, we might be able to develop new treatments for skin and perhaps even hair replacement," Sanberg added.
The European authors of the study, which appears in the March 12 issue of Science, believe the findings may lead to new, improved methods of wound repair and even skin grafts.
Others agreed.
"It's probably important to know this with respect to making better artificial skin," said Kevin Eggan, chief scientific officer of The New York Stem Cell Foundation and associate professor of stem cell and regenerative biology at Harvard University in Boston.
Current skin grafts such as those made for burn victims are not fully functional, as they have no hair follicles or sweat glands, he explained.
"These might lead to more functional skin grafts," Eggan said.
Three different types of cells make up the skin: hair follicles, sebaceous glands and the intervening tissue, called interfollicular epidermis.
All three are capable of producing more of the cell type and are therefore considered stem cells. But scientists have long been puzzled as to the origins of these stem cells.
"The skin has a remarkable ability to heal itself so people have wondered what the basis is for that regenerative capacity," Eggan said. "This has been quite a controversial subject."
One group theorize that this special stem cell lives in the "bulge" of the hair follicle, near the top of the skin pore, he explained.
Others (including this research team) believe the elusive stem cell can be found at the base of the hair shaft.
Still others throw out both hypotheses, arguing instead that skin cells can replenish themselves.
These researchers, based at different European institutes, showed that cells marked by the Lgr6 gene and located in the hair follicle are the original mothers (or fathers) of other skin cells.
They were also able to show that, in mice, these Lgr6 genes could repair skin and produce new hair.
But while these earliest cells continued to produce sebacious glands and interfollicular epidermis, their contribution to hair growth gradually diminished over time.
"This might provide more insight into understanding why skin ages and hair changes as we age," Sanberg said. "Clearly, understanding these kinds of stem cells is important because it could impact methods of wound healing as well as cosmetics."
But, Eggan said, the paper is unlikely to be the last word in the dispute over which stem cell came first.
More information
The U.S. National Institutes of Health has more on stem cells.
Source: HealthDay
​