Simple Tool May Predict Athlete's Risk for Ligament Injury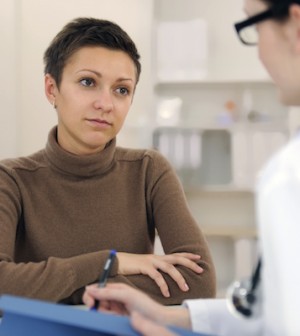 SATURDAY, July 17Athletes at high risk for anterior cruciate ligament (ACL) injury can be identified through a simple, inexpensive method that can be done in a doctor's office, according a new study.
The approach combines measuring the tibia (shin bone) with a standard measuring tape, weighing the patient, and using a camcorder to record the motions of the patient's knee when landing after a jump.
The accuracy of this method was very close to that of expensive and complex laboratory-based motion analysis systems, according to the researchers.
The study was to be presented July 17 at the annual meeting of the American Orthopaedic Society for Sports Medicine in Providence, R.I.
"This method may be used as a training camp protocol in partnership with team clinicians or set up and run in the athletic training setting," study author Greg Myer, a sports biomechanist at Cincinnati Children's Hospital, said in an AOSSM news release.
"Current evidence indicates that athletes identified as high risk for ACL injury using this approach are more responsive to neuromuscular training aimed at reducing this risk factor. This tool can be used to get high-risk athletes into appropriate interventions to further reduce their potential of injury risk, which may [improve] future interventions aimed to prevent ACL injury in female athletes," Myer added.
The tool may have particular benefit for women, who are two to eight times more likely to suffer an ACL injury than men, according to the researchers. This may be due to the effects that women's hormone levels have on ligament strength and stiffness, neuromuscular control and fatigue, and lower limb biomechanics. There are also gender differences in neuromuscular control when landing jumps, researchers said: Women appear to have less hip and knee flexion or bending and land more knock kneed than men.
More information
The American Academy of Orthopaedic Surgeons has more about ACL injury.
Source: HealthDay
​