New Prostate Cancer Guidelines Aim to Empower the Patient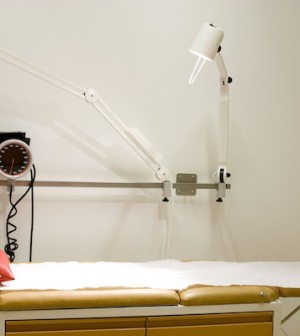 FRIDAY, March 5New American Cancer Society guidelines on prostate cancer screening mean that many men will be faced with a cascade of decisions, with a growing responsibility for those decisions falling on their shoulders.
The guidelines, issued Wednesday, de-emphasize routine prostate-specific antigen (PSA) testing and re-emphasize the need for patient-doctor discussions on whether such tests are appropriate for individual patients.
PSA tests, which measure levels of a protein called prostate-specific antigen that's produced by the prostate gland, do detect cancers. But, they can make the situation worse by revealing malignancies that wouldn't cause a problem over a man's lifetime, leading to unnecessary treatments and undesirable side effects, such as urinary incontinence and impotence.
The new guidelines acknowledge the uncertainties surrounding PSA tests, which have been controversial for some time because assorted studies have produced conflicting results about the value of the screenings.
Dr. Len Lichtenfeld, deputy chief medical officer of the American Cancer Society, found himself in a similar situation recently. Although he is of a generation where routine PSA testing is basically a reflexive practice, he was jarred when his PSA levels, after long years of quiescence, rose dramatically.
Thinking it might be an infection, his doctors prescribed antibiotics. A month or so later, the levels had come down, but not to their prior low point. Lichtenfeld was supposed to go for another test six months later.
"I just didn't do it. I found myself conflicted about the value of getting that follow-up test," he said. "I waited a year, and I had anxiety about it."
Fortunately, at the end of that year, Lichtenfeld's PSA levels had returned to their baseline and he wasn't faced with additional hard choices about whether to seek treatment and, if so, which therapies to pursue.
"The problem is we still can't predict which patients are going to live with their [prostate] cancer and which are going to die from it," said Dr. Jay Brooks, chairman of hematology/oncology at Ochsner Health System in Baton Rouge, La.
According to a statement posted Wednesday on the American Cancer Society Web site, men with no symptoms of prostate cancer who are in relatively good health and can expect to live at least another 10 years should make an informed decision with their doctor about prostate cancer screening after learning the uncertainties, risks and potential benefits associated with such screening. These talks should start when a man turns 50. Men with no symptoms who are not expected to live more than 10 years — whether due to age or poor health — should not be offered prostate cancer screening because the risks probably outweigh the benefits.
The cancer society continues to recommend that men at high risk of prostate cancer — such as blacks and those with a father, brother or son diagnosed with prostate cancer before the age of 65 — start those conversations earlier, at age 45. And men at even higher risk — those with multiple family members diagnosed with the disease before age 65 — should start those discussions even earlier, at age 40.
If a man still can't reach a decision about screening after these conversations, the cancer society is recommending that the physician make the decision, based on knowledge of the patient's health preferences and values.
In advising patients on an appropriate course of action, doctors, who are typically pressed for time, need to take into account a man's total medical profile, according to the American Cancer Society and other experts.
But how reasonable is that?
"Great theory, lousy practice," Lichtenfeld acknowledged. "The reality is that everybody is so pressed for time these days it's hard to have that conversation."
But, he added, "you have to have the conversation. It's time that we all be honest with each other about what we know and don't know."
Even with all the murkiness surrounding PSA testing and the life course of prostate cancer, doctors do know some things.
"You have to look at what the patient's life expectancy is," said Dr. Basir Tareen, physician-in-charge of urologic oncology at Beth Israel Medical Center in New York City. "Someone you would expect to live 15 years or more may derive a benefit from PSA screening."
But an 85-year-old patient who has multiple other health problems is probably not a good candidate for the PSA test, said Tareen, who thinks it's "reasonable" to stop checking PSAs that have stayed normal once a man turns 75.
And let's say a physician treats an 80-year-old man with Lupron shots rather than surgery and radiation. Testosterone levels will decline and the patient is more likely to suffer a heart attack or fall and break his hip due to weakened bones, Brooks said.
"You have used a screening test to make a diagnosis that you didn't need to know and now you have thinned bones and an increased risk for a hip fracture which he'll probably die from," he said.
For reasonably healthy men in their 40s or 50s, it makes sense to at least get a baseline PSA level, then have a discussion as to whether or not you want to pursue regular testing, Tareen said.
Lichtenfeld said: "People are not potted plants as patients. This is part of personal-responsibility decision-making, a process that more of us need to do. We need to find out where we are in this situation. There's a lot about screening we want to believe, but the evidence is not as clear-cut as we would like. This does attack our fundamental beliefs, wishes, desire that we've done something right but we don't know if we can point to an individual man and say we made a difference."
The cancer society's most recent estimates state that slightly more than 192,000 new cases of prostate cancer are diagnosed in the United States each year, and nearly 27,400 men die from the disease annually. It's the most common type of cancer found in American men, other than skin cancer, and the second leading cause of cancer death in men. One in six men will get prostate cancer during his lifetime, and one in 35 will die from it. More than 2 million men in the United States who've had prostate cancer at some point are still alive, and the death rate is declining.
The revised prostate cancer guidelines mark the third time in four months that medical experts have revised the advice on cancer screenings.
Last November, women were told by the American College of Obstetricians and Gynecologists that they don't have to get their first screening for cervical cancer — including a Pap test — until age 21. And, rather than an annual Pap test, most women need to be screened every other year or less, depending on their age.
And earlier in November, new U.S. Preventive Services Task Force guidelines suggested that the average woman need not have a mammogram to screen for breast cancer until age 50 and, after that, should have the test every other year rather than annually.
Those suggested changes stirred a firestorm of debate.
More information
The American Cancer Society has more on prostate cancer.
Source: HealthDay
​