Men May Gain More From Cancer Immunotherapy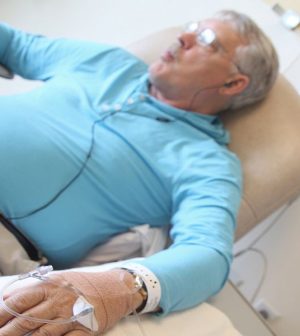 Male cancer patients seem to fare significantly better following immunotherapy treatment than female patients, new research indicates.
"Both sex and gender can potentially affect the strength of the body's immune response," explained study author Dr. Fabio Conforti, from the European Institute of Oncology in Milan, Italy.
For example, Conforti noted that women generally show stronger immune responses than men in reaction to medical treatment. That, he said, seems to explain why infections occur less frequently — and are often less serious — among women than men, and why women also typically respond better to vaccines than men.
"On the other hand, women account for roughly 80 percent of all patients with systemic autoimmune diseases worldwide," Conforti said. "Therefore, it's possible that differences in the immune system of women and men could be relevant to the natural course of chronic inflammatory conditions such as cancer, and potentially how they respond to drugs."
The new finding is based on a review of 20 studies that assessed survival rates among cancer patients. All were treated with immunotherapy drugs, a type of advanced cancer therapy developed over the last decade that has now become the standard treatment for several types of cancer, including melanoma and non-small-cell lung cancer.
Taken together, the studies had enrolled more than 11,000 patients. Researchers found that all the patients fared better on immunotherapy treatment than they would have on another treatment (or no treatment at all). But following treatment, male cancer patients saw their survival extended by twice as much as female patients.
Patients in the studies were struggling with advanced cancers, including melanoma, kidney cancer, urothelial cancer, head and neck cancer, and lung cancer.
The investigators noted an important caveat in their finding: In roughly half of the studies women only accounted for less than a third of participants, making it hard to conclusively identify gender differences in outcomes.
Conforti and his colleagues reported their findings in the May 17 issue of The Lancet Oncology.
In an accompanying editorial, Omar Abdel-Rahman, of Ain Shams University in Cairo, Egypt, and the University of Calgary in Canada, wrote that "caution needs to be exercised before jumping directly to radical conclusions and before changing the current standard of care."
He noted that the analysis includes a diverse group of solid tumors that might act differently in men and women.
"Moreover, there are also lifestyle or behavioral characteristics that differ between men and women that might also have confounding effects," Abdel-Rahman added.
More information
Visit the American Cancer Society for more on immunotherapy.
Are You Living with Psoriasis?
A growing knowledge of the skin disease called psoriasis is leading to greater treatment choices, including personalized therapies, the U.S. Food and Drug Administration reports.
Psoriasis is an immune system disorder that causes overproduction of skin cells, resulting in scaling, pain, swelling, redness and heat. The condition affects about 7.5 million Americans.
"As we better understand the disease, researchers know more about what specific factors to target in order to develop effective treatments," FDA dermatologist Dr. Melinda McCord said in an agency news release.
There is no cure for psoriasis, so the main goals of treatments are to stop skin cell overproduction and reduce inflammation. Current therapies include medicines applied to the skin (topical), light treatment (phototherapy), or drugs taken by mouth or given by injection.
Doctors used to take a step-by-step approach, starting patients with mild to moderate psoriasis on topical therapy. If that was ineffective, doctors moved on to phototherapy or drug treatment.
​