Certain Breast Cancer Drugs Linked With Heart Risks in Older Women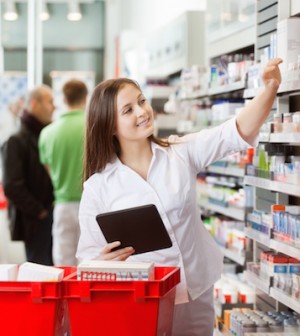 THURSDAY, Dec. 9Long-term use of aromatase inhibitors, drugs often prescribed to breast cancer patients, may increase the risk of heart problems for postmenopausal women, according to a Canadian researcher.
"There have always been suspicions," said Dr. Eitan Amir, senior fellow at Princess Margaret Hospital in Toronto, who is scheduled to present the findings this week at the San Antonio Breast Cancer Symposium in Texas.
In December 2008, the U.S. Food and Drug Administration added a warning label to anastrozole, an aromatase inhibitor marketed as Arimidex, citing a potential increased risk for heart disease.
Amir's team evaluated previously published studies to find out if other aromatase inhibitors also increased the risk of heart disease in postmenopausal women with breast cancer. "We looked at seven trials which have compared aromatase inhibitors with tamoxifen," he said
Aromatase inhibitors, which also include Femara and Aromasin, prevent the production of estrogen, which some cancers need to grow and spread. Tamoxifen, another drug frequently prescribed for breast cancer patients with estrogen-sensitive tumors, blocks the effect of estrogen in breast tissue. Under current guidelines, the two drugs may be used in either order for the several years of treatment typically recommended.
"Overall, there is a 26 percent increased risk in heart events — heart attack, angina and heart failure — for women taking aromatase inhibitors for longer duration," which typically means more than three years, Amir said.
"But those are relative statistics, and they can be a bit misleading," he says. A relative risk compares the risk in two different groups of people. Another measure — absolute risk — refers to one person's actual risk of developing the disease over a given time period.
In this study, the absolute risk to any one woman taking an aromatase inhibitor was less alarming. "Only 1 percent more got heart disease," Amir said. But the risk among those who already had risk factors for heart disease, such as high blood pressure, was as high as 7 percent.
"Aromatase inhibitors are being given routinely to many [breast cancer] patients," he said. And not everyone gets the same benefit, he said, so treatment should be based not just on breast cancer risk, but on the patient's cardiovascular profile and other health risks, he said.
"If you have heart disease, perhaps you want to avoid aromatase inhibitors," Amir said.
Another option would be to switch from one drug to the other, to avoid staying on aromatase inhibitors long-term, he said.
When he compared women who used aromatase inhibitors first to those who used tamoxifen first, the risk for serious adverse effects was similar. But there was a hint that switching drugs reduced the risk of death from other causes.
Because this study was presented at a medical meeting, the findings should be viewed as preliminary until they are published in a peer-reviewed journal.
Still, the findings are no surprise, said Dr. Julie Gralow, director of breast medical oncology at Seattle Cancer Care Alliance, who reviewed the study results but was not involved in it.
Aromatase inhibitors aren't perfect, she said. Neither is tamoxifen, which has been linked with blood clots, stroke and cataracts.
"For some women maybe tamoxifen is better," said Gralow, who is careful to follow her patients closely and monitor them for any suggestion of heart disease.
As with much of medical practice, decisions must be made on a case-by-case basis, she said.
More information
To learn more about aromatase inhibitors, visit the U.S. National Cancer Institute.
Source: HealthDay
​