Playtime with Parents May Shape Gender Roles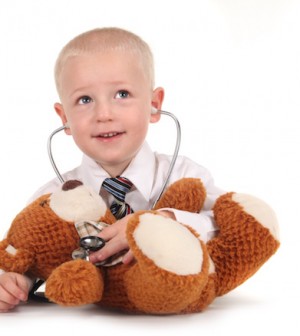 WEDNESDAY, June 16The different ways mothers and fathers play with their child helps shape a toddler's view of what is masculine and what is feminine, new research suggests.
The observation stems from an analysis of videotaped interactions — shot as part of the U.S. National Institute of Child Health and Human Development Study of Early Child Care — from among 80 families living in two small Kansas cities.
The tapes included 15-minute sessions in which the parents played with their child, and 10-minute sessions in which the parents gave their child a snack.
All groupings of interaction were taped, including mother-son, mother-daughter, father-son and father-daughter combinations.
Lead author Eric Lindsey of Penn State Berks and colleagues first observed that the verbal dynamics shifted depending on whether the parent was caregiving or playing with his or her toddler. When feeding their child, the focus of communication was parent-centered, they noted, with children accepting that the parent was in control. But when playing, interactions were more equal and the child was more involved in directing the interaction.
There was very little gender difference seen in the way boys and girls behaved in either context.
However, although parents behaved similarly when care-giving, the behaviors of mothers and fathers differed when at play. Fathers were found to be more assertive, while mothers were more cooperative and helpful.
Such differences are likely to be picked up by children over time and linked by toddlers to gender roles, Lindsey and his team report in the current issue of Sex Roles. Assertiveness is likely to be viewed by youngsters as a male trait, while children end up thinking of compliancy and flexibility as feminine qualities.
"It would appear that children in the same family have different experiences in their play interactions with their mothers and fathers," the authors state in a news release. "Such differences may teach children indirect lessons about gender roles and reinforced gender-typed patterns of behavior that they then carry into contexts outside of the family."
The findings were published online June 10 in the journal Sex Roles.
More information
Fore more on parenting and gender roles, try the National Crime Prevention Council.
Source: HealthDay
​