'Gaming' Sends Boys' Test Scores Sliding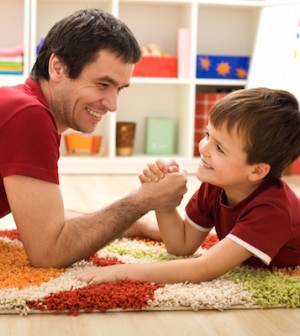 WEDNESDAY, March 17New research shows that young boys who own a video game system don't do as well academically as their non-playing peers, suggesting that time spent playing video games is supplanting time spent on homework.
Study author Robert Weis, an associate professor of psychology at Denison University in Ohio, said that "we can never say with 100 percent certainty that it's playing video games that causes kids to have delays or deficits in reading and writing performance, but … we can be pretty confident that it's the game ownership and the amount of time they spend playing that causes these academic delays."
Another expert agreed.
"It's a zero-sum thing. There's only so much time you can give to certain activities, and the more you spend with video games, the more likely you will not progress in academic achievement," explained Alan Delamater, director of clinical psychology at the Mailman Center for Child Development at the University of Miami.
The study, published online and in the April issue of Psychological Science, involved 64 boys between the ages of 6 and 9 whose families did not yet own a video game system but had been thinking about purchasing one.
All of the boys took reading, writing and math tests at the beginning of the study and then either received a video game system plus three games immediately or in four months, after the study was completed.
Boys who received and started playing video games right away spent less time doing homework and other after-school academic activities than the boys without video game systems, the study found.
They also did not do as well on follow-up reading and writing tests, although no difference between the groups was found in the math scores.
There were no behavioral changes reported, and all scores still remained within the normal range, Delamater noted.
The researchers could not say with certainty why the differences emerged with reading and writing but not math, but they could guess.
"These children probably don't engage in a lot of math-based after-school activities," Weis said. "You can imagine a little boy going home and reading a story or having his parents read to him, but you can't really imagine a first-grade boy wanting to do math problems for fun. There's not a whole lot of displacement there."
The fact that video games can cut into study time seems to be an obvious explanation, but there could be others, the researchers said.
"Video games could affect a child's brain, particularly executive functioning, and it could compromise his or her ability to do well in certain academic activities," Weis said. In children, executive functioning refers to such things as their ability to manage time and keep track of more than one thing at once.
In any event, Delamater said, "parents should be limiting the exposure these kids have to video games."
Or at least calling for balance, Weis noted.
"I tell students that we have to follow Aristotle's golden mean and that is to strive for moderation in all the things that we do," he said. "That means moderation in after-school academic activities like homework and also moderation in video-game playing and other recreational activities."
More information
The Kaiser Family Foundation has more on video-game playing.
Source: HealthDay
​