Health Highlights: March 17, 2010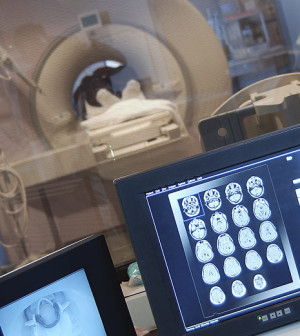 Here are some of the latest health and medical news developments, compiled by the editors of HealthDay:
Many Cleansers Ineffective Against Noroviruses: Study
Bleach-based cleansers are the most effective in killing stomach flu-causing noroviruses, says a Canadian study.
Laval University researchers compared different commercial disinfectants — alcohol-based, bleach-based and quaternary ammonium-based — and found that as many as 40 percent of them were ineffective against noroviruses, CBC News reported.
But using a bleach-based product for five minutes reduced the concentration of noroviruses on a stainless steel surface by a factor of 1,000. The other types of cleansers were 100 times less effective.
The study appears in the Journal of Food Protection.
"Our results are of particular concern, considering that some 40 percent of the commercial surface disinfectants on the market are alcohol- or ammonium-based," lead researcher Julie Jean said in a news release, CBC News reported.
—–
Family of Late Actor John Ritter Puts Spotlight on Lethal Heart Problem
People need to be aware that a thoracic aortic aneurysm is often mistaken for a heart attack, says the family of late actor John Ritter.
In 2003, he died after he suffered a thoracic aortic aneurysm but was treated for a heart attack. In order to prevent similar tragedies, the actor's family is promoting "The Ritter Rules," which help with the detection and treatment of the condition, CBS News reported.
Ritter's widow, actress Amy Yasbeck, said her late husband would have done this type of advocacy work if he'd survived.
"John was that guy," said Yasbeck, who appeared on "The Early Show" on CBS. "He knew that with the celebrity he had, came great responsibility. And we've taken that responsibility very seriously by lending his name to 'The Ritter Rules.'"
She added that "The Ritter Rules" saved the life of John's brother, Tom, who had a thoracic aortic aneurysm in exactly the same place.
Each year, more than 15,000 people in the United States die from thoracic aortic aneurysms, CBS News reported.
—–
U.K. Hospitals Should Allow Sitting on Patient Beds: Doctor
Many British hospitals forbid visitors from sitting on a patient's bed, but the practice is unjustified and prevents patients from being close to loved ones, a doctor writes in a commentary published Wednesday in the British Medical Journal.
Hospital officials say the policy helps protect patients from getting infected by visitors and health care workers, or vice versa. But Dr. Iona Heath says she was "shocked" when she heard about the sitting bans, the Associated Press reported.
She added that she wouldn't hesitate to sit on a patient's bed during a house call or while treating a patient in a hospital.
"Doctors should never be discouraged from sitting, because patients consistently estimate that they have been given more time when the doctor sits down," Heath wrote in the journal commentary. "Such interactions are precious and should be made easier rather than more difficult."
Rules that forbid sitting on patients' beds are determined by individual hospitals, said Britain's department of health, the AP reported.
—–
FDA Cites Companies for Unapproved Nitroglycerin Tablets
The U.S. Food and Drug Administration has told two companies to stop selling unapproved nitroglycerin tablets that are placed under the tongue to relieve chest pain or to stop a heart attack.
The pills, marketed by Glenmark Generics of Mahwah, N.J., and Konec Inc. of Tucson, Ariz., come in 0.3 milligram, 0.4 milligram, and 0.6 milligram doses, the agency said.
The FDA doesn't foresee a supply problem for nitroglycerin products. Pfizer Inc. markets FDA-approved sublingual nitroglycerin tablets in the same strengths and is able to supply the market with approved products, the agency said Tuesday in a news release.
In warning letters to the companies, the FDA told Glenmark and Konec to remove the unapproved tablets from the market. The unapproved tablets haven't been proven safe and effective, the agency said, adding that it hasn't reviewed their quality and labeling.
"Doctors and patients should know that not all drugs on the market are backed by an FDA approval," said Deborah M. Autor, director of the Office of Compliance at the FDA's Center for Drug Evaluation and Research.
Patients taking the unapproved tablets should continue to take their medication and consult with a health-care professional for guidance on alternative treatment options.
Glenmark and Konec have 15 days to respond to the FDA with a plan for removing their products from the market, the FDA said.
—–
Reports of Pine Nut Syndrome Increasing
As more Americans use pine nuts in salads, pesto and other foods, reports are increasing of pine mouth syndrome — a bitter metallic taste that can develop a few days after consuming pine nuts and last for up to two weeks.
Dozens of anecdotal reports are online, according to an article written by Marc-David Munk, a professor in the Department of Emergency Medicine at the University of New Mexico in Albuquerque, USA Today reported.
Munk, who has firsthand experience of pine mouth syndrome, believes something in the pine nuts affects the signaling between the taste buds and the brain. His article appears in the Journal of Medical Toxicology.
In the past year, the U.S. Food and Drug Administration has received 51 complaints of "taste disturbances" linked to pine nuts, USA Today reported.
​