Dangerous Toys Still on Store Shelves, Report Finds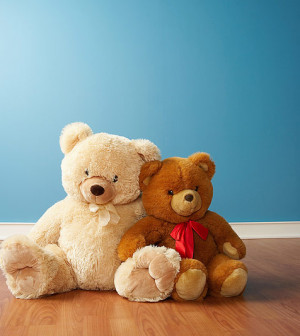 TUESDAY, Nov. 24As the holiday shopping season begins, parents need to know that many dangerous toys are still being sold in stores across the United States.
That's the conclusion of the 24th annual Trouble in Toyland report, released Tuesday by the U.S. Public Interest Research Group (PIRG).
The report focuses on toys that pose a choking hazard, are excessively loud, or contain the toxic chemicals phthalate and lead.
Phthalates have been linked to premature delivery, reproductive defects, early onset of puberty, and lower sperm counts. Lead exposure can cause lowered IQ, delayed mental and physical development, and death in children, researchers have found.
Along with the Trouble in Toyland report, PIRG said it will unveil a new interactive tool — accessible via computer or smart phone — that will help parents and other purchasers avoid hazardous toys. Consumers will also be able to report dangerous toys to the new Web tool (www.toysafety.mobi).
"Now parents can shop safely and avoid purchasing potentially dangerous toys for their kids," Elizabeth Hitchcock, PIRG's public health advocate, said in a news release. "With our new, interactive tool, parents and other consumers can report toys they think are hazardous so we can investigate them and report them to the federal government," she added.
While a new law overhauling the U.S. Consumer Product Safety Commission (CPSC) has led to some progress on toy safety in the past year, consumers still need to be wary, PIRG said.
Hitchcock said, "There's no magic wand to fix the CPSC, and making products safer won't happen overnight. Restoring consumer confidence in the products we buy will take continued hard work on the part of the CPSC and responsible retailers and manufacturers."
Among the findings in the new report:
Despite a ban on small parts in toys for children under 3, PIRG found toys that pose serious choking hazards. An analysis of CPSC recalls and other actions in 2009 showed that these hazards were the cause of more than 5 million products being recalled from store shelves.
Some toys tested by PIRG exceeded 85 decibels sound level, the volume threshold established under American Society for Testing and Materials standards.
As of February 2009, toys and other children's products containing more than 0.1 percent of phthalates were banned in the United States, but PIRG found children's products that contained concentrations of phthalates up to 7.2 percent.
In August 2009, the allowable level of lead in the paint on children's products sold in the United States was reduced to 90 parts per million, and the allowable level of lead in children's products was reduced to 300 ppm. PIRG researchers found three children's toys or jewelry containing high levels of lead or lead paint.
In 2009, the CPSC announced recalls and other regulatory actions involving nearly 1.3 million toys and other children's products that violated the lead paint standard. In October, PIRG notified the CPSC of a preschool book that contained lead paint at 1,900 ppm — more than 20 times the allowable maximum of 90 ppm.
"We're encouraged that Toys 'R' Us stopped the sale of this particular book after we notified the CPSC of the lead paint violation," Hitchcock said. "We hope we can continue to see this kind of progress in protecting kids from all toy hazards."
In 2008, toy-related injuries caused the deaths of 19 children and resulted in more than 82,000 emergency room visits by children under age 5, according to the most recent CPSC data.
More information
The Nemours Foundation has more about toy safety.
Source: HealthDay
​