Breast-Feeding for 6 Months May Prevent Infant Infections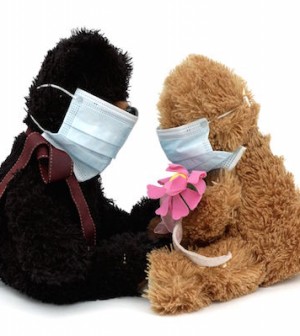 TUESDAY, Sept. 28Children who derive all their nutrition from breast-milk during their first six months of life are less prone to a host of common infections, new Greek research says.
And when infection strikes, the ensuing illness is typically less severe among children who are exclusively breast-fed (having ingested no substitute formula) in their first half year, the study authors stated.
The research, led by Emmanouil Galanakis from the department of pediatrics at the University of Crete in Heraklion, Greece, is published in the Sept. 28 online edition of the Archives of Disease in Childhood.
In 2004, Galanakis and his colleagues looked at the feeding patterns and infection rates among nearly 1,000 Greek infants from birth to 1 year of age. All the infants had received their routine vaccinations and all were deemed to have access to high-quality health care.
The study authors found that at the 1-month mark, a little more than 60 percent of the mothers breast-fed their infants to some degree, but only about 25 percent did so exclusively.
At the six-month mark, only 17 percent continued to breast-feed, and only 10 percent did so exclusively.
Infection incidence — including respiratory and urinary infections, ear infections (otitis media), stomach upsets (gastroenteritis), conjunctivitis and thrush — were tracked at the one-, three-, six-, nine- and 12-month marks.
Analyzing the numbers, the researchers observed that the longer an infant was breast-fed exclusively, the lower the child's risk for infection. Longer exclusive breast-feeding also appeared to translate into fewer visits to a doctor and fewer infection-related hospital admissions.
The finding, which has been seen in previous studies, held up even after accounting for other factors that can influence the frequency of infections, including exposure to cigarette smoke, ethnicity, the number of siblings in a household, and parental age and education.
The 91 children who were exclusively breast-fed for a full six months also experienced less severe infections when they got them, the authors noted. Partial breast-feeding, however, did not offer the same kind of protection.
Why is breast-feeding so good for infants? Galanakis and his associates theorized that the nutritional and immunological benefits are rooted in the antibodies found in mothers' milk.
"Exclusive breast-feeding helps protect infants against common infections and lessens the frequency and severity of infectious episodes not only in developing countries but also in communities with adequate vaccination coverage and health care standards," the study authors concluded in a news release from the journal's publisher.
More information
Womenshealth.gov has more about the benefits of breast-feeding.
Source: HealthDay
​