New Software for Defibrillators Lowers Risk of Unnecessary Shocks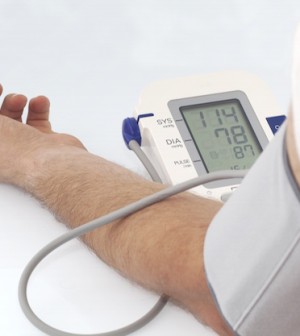 MONDAY, Sept. 27Implantable cardioverter defibrillators (ICDs) have saved the lives of tens of thousands of Americans at risk for sudden cardiac death because of serious heart rhythm abnormalities.
But these medical devices have gotten a bad reputation in recent years, mainly because the electrical wires, or leads, that connect the ICD to the heart can sometimes fracture, causing patients to unnecessarily receive painful shocks.
Now, a new study suggests that doctors can cut the relative risk of accidental shocks in half simply by downloading upgraded software into the ICD during a routine office visit.
The Lead Integrity Alert (LIA) software checks the device for suspicious electrical signals six times a day, and if problems are detected, alerts the patient with an audible beep every four hours, according to the study, which was published in the Sept. 27 issue of Circulation.
In contrast, standard ICD software usually monitors the device for signs of fractures and other mechanical problems just once a day, and notifies the patient of any abnormalities with a single alert at the same time every day.
The biggest advance, said study author Dr. Charles Swerdlow, a cardiac electrophysiologist at the Cedars-Sinai Heart Institute in Los Angeles, is that LIA software can detect electrical changes that signal a wire fracture and recalibrate the device to delay an inappropriate shock from occurring.
"The software basically makes the devices less trigger-happy," said Swerdlow, who is a clinical professor of medicine at the University of California, Los Angeles' David Geffen School of Medicine.
The study was funded by Medtronic Inc., which developed the LIA software for use with the company's ICDs that are connected to a specific type of lead that has been particularly prone to fractures. (That lead, known as Sprint Fidelis, was removed from the market in 2007.)
"Some doctors have been pulling these leads out prophylactically because they're worried about fractures, but what they often don't consider is that there are significant risks associated with lead replacement surgery," noted Swerdlow, who added that he hoped these findings encourage doctors to consider other options before replacing ICD leads.
Earlier this year, researchers reported that a new type of ICD that can be implanted just under the patient's skin and eliminate the need for electrical leads altogether may be just as effective as conventional models, but electrophysiologists say larger and longer-term studies are needed to prove their safety and efficacy.
For the software study, Swerdlow and his co-authors compared the experience of 426 patients prior to surgery to replace fractured leads. Half of the patients received standard daily monitoring and half were monitored with the addition of the downloadable LIA software. Among the patients who had standard monitoring, 70 percent received one or more inappropriate shocks, compared with only 38 percent of those who were monitored with the help of LIA software. Five or more inappropriate shocks were delivered to 50 percent of the patients who received standard monitoring, but only 25 percent of patients with LIA.
The researchers also found that 72 percent of patients with LIA had no inappropriate shock, or had at least three days warning prior to an inappropriate shock, compared with only 50 percent of those who received standard monitoring.
Many electrophysiologists began using the software soon after the FDA approved it in August 2008, said Dr. Andrea M. Russo, director of Cardiac Electrophysiology and Arrhythmia Services at Cooper University Hospital in Camden, N.J.
"Inappropriate shocks are much more damaging, psychologically, [than necessary electrical jolts] so we need to aim to eliminate every shock that's unnecessary," said Russo, who is a professor of medicine at UMDNJ-Robert Wood Johnson Medical School in New Brunswick, N.J.
Now that more and more patients with ICDs can be monitored at home with the use of remote systems that send information to doctors over a telephone line, "getting patients to come into the office so we can download the software is sometimes the hardest part," said Russo.
Swerdlow said other ICD software now under development will hopefully making the device "smart enough to know when a lead is broken and withhold a shock altogether." But that advancement, he said, "is a much trickier thing because the penalty for being wrong is really high. If someone crashes their iPod, they're out of songs for a while. But if a patient crashes their defibrillator, they can die."
An estimated 114,000 patients have surgery to implant or replace ICDs every year, according to the American Heart Association.
More information
For more on ICDs, visit the American Heart Association.
Source: HealthDay
​