Better Outcomes Seen With Early Rheumatoid Arthritis Diagnosis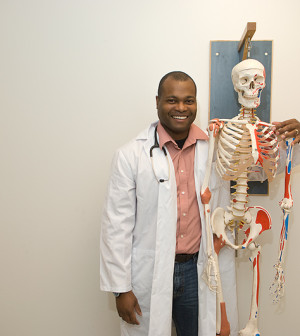 TUESDAY, Nov. 30Early assessment of rheumatoid arthritis can reduce the amount of joint damage and improve the likelihood of disease remission without having to take disease-modifying antirheumatic drugs, known as DMARDs, new research indicates.
Although DMARDs are considered effective in treating rheumatoid arthritis, especially when other treatments don't work, they have been linked to uncommon but serious side effects.
The study included 1,674 patients with rheumatoid arthritis, or RA, who were followed-up for six years after diagnosis. The median time from the onset of symptoms until a patient was assessed by a rheumatologist was 13.7 weeks.
Patients who were seen by a rheumatologist 12 or more weeks after RA symptoms began had a joint destruction rate 1.3 times higher than patients assessed within 12 weeks. A delay in assessment and treatment was also associated with a 1.87 times greater risk of not achieving a remission free of DMARD drugs.
The study is published in the December issue of the journal Arthritis & Rheumatism.
"Early treatment intervention dramatically improves clinical outcomes in patients with RA," Dr. Michael van der Linden, of the Leiden University Medical Center, said in a news release from the journal's publisher. "Our study presents the first evidence that RA patients who have a delay longer than 12 weeks between first symptoms and visiting a rheumatologist have a higher rate of joint destruction and lower chance of achieving a sustained DMARD-free remission."
The findings "highlight the importance of reducing the delay in assessment by a rheumatologist and further studies could test whether accelerated treatment leads to improved disease outcomes in RA," van der Linden concluded.
More information
The American Academy of Family Physicians has more about rheumatoid arthritis.
Source: HealthDay
​