Bad Habits Tied to Recurrent Headaches in Teens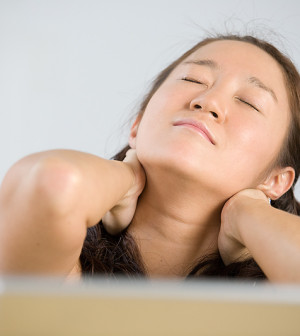 WEDNESDAY, Aug. 18Quitting smoking, getting more exercise and losing weight could help many headache-prone teens ease their suffering, new research suggests.
The large Norwegian study found a positive association between those three lifestyle factors and recurrent headaches among adolescents.
Maintaining healthy habits will help reduce the number of headaches teens get and forestall headaches for those who don't yet have them, said Dr. Andrew D. Hershey, a professor of pediatrics and neurology at the Cincinnati Children's Hospital Medical Center.
In the study, teens who smoked, exercised less than twice a week and were overweight or obese were over three times more likely to have recurrent headaches.
Of the roughly 5,800 teens surveyed, 55 percent of those who had all three bad lifestyle factors also had recurrent headaches, compared to only 25 percent with no negative factors.
Teens with two of the negative factors were almost twice as likely to have frequent headaches, classified in the study as migraine, tension, or "nonclassifiable headaches" that fit neither description.
"The bottom-line message, and it's hard for teens to get it, is it's important to take good care of yourself and maintain healthy habits all your life," said Hershey. "When you don't, those who are prone to headaches are the ones who will suffer most."
Headaches are among the top five physical complaints of teens, more frequent than asthma, said Hershey, who is also director of the headache center at the hospital. He said 30 percent to 40 percent of teens were found in a previous study to get recurrent headaches.
In the current study, published in the Aug. 18 online edition of the journal Neurology, 16 percent of the students were overweight, 19 percent smoked, and 31 percent exercised less than twice a week.
The study volunteers, aged 13 to 18, were interviewed by nurses, answered a survey about their habits, and were weighed and measured for height. Among the group, 36 percent of girls and 21 percent of boys reported having recurrent headaches in the previous 12 months.
Dr. Kathleen Digre, a professor of neurology and ophthalmology at the University of Utah School of Medicine, noted that 13 years have passed since the study was conducted, and the problem is likely to be worse now because childhood obesity rates have increased.
"I would say this may be more the tip of the iceberg," said Digre, who is also director of the headache clinic at the hospital. She said the study's implications apply to teens in the United States and elsewhere.
"No population, or very few, have escaped this obesity epidemic we are having now," she said, noting that obesity contributes to headache frequency in both adolescents and adults.
Obesity promotes inflammation in the body, both Digre and Hershey noted, and it has been linked in previous research to pain of all kinds. Obesity stresses the skeletal and vascular systems, increasing the risk for blood clots and a variety of illnesses, Digre explained.
"The message for teens is, if you have headaches it might behoove you to really look at your lifestyle, get exercise, quit smoking, eat healthy foods," said Digre. "And if you don't have headaches, the same message applies" for prevention.
Teens with frequent headaches also miss a lot of school as a result, "starting out on a bad footing in life," she added.
Even with a healthy lifestyle, some people will get headaches because the condition is believed to be genetically based, but positive lifestyle changes can help reduce their frequency, Digre pointed out.
In an editorial in the same issue, Hershey called for a long-term study to further analyze the impact of headache risk factors, such as gender and socioeconomic status, exacerbating factors such as obesity, and triggers, such as smoking.
This study, Hershey wrote, "sets the stage for lifestyle interventions in adolescents focused on physical activity, smoking and obesity."
More information
For more on teens and migraines, go to the Nemours Foundation.
Source: HealthDay
​