Osteoarthritis Risk May Be Higher If Knees Point Outward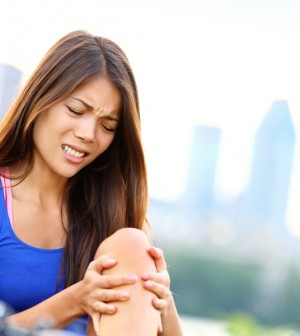 WEDNESDAY, Aug. 18People whose knees face outward may be at increased risk for osteoarthritis, new findings suggest.
This outward-facing knee alignment — in which the knees are relatively far apart and the ankles closer together — is called the varus alignment. While it resembles bowleggedness, it's not as extreme, the study authors pointed out in a news release from the U.S. National Institutes of Health.
The study included 2,713 volunteers, aged 50 to 79, who had arthritis or were at increased risk for osteoarthritis because they were overweight or had a previous knee injury. Osteoarthritis is a painful — and sometimes disabling — condition in which the cartilage that usually cushions the ends of bone at the joints deteriorates.
The researchers took X-rays of each participant's legs at the start of the study and again 2.5 years later.
People with the varus alignment were nearly 1.5 times more likely to develop osteoarthritis than those with a straight-legged stance. There was no increased risk for people with inner-facing knees (valgus alignment), the investigators found.
The study, funded by the U.S. National Institutes of Health, was released online in advance of publication in an upcoming print issue of the journal Annals of the Rheumatic Diseases.
According to the first author of the study, Dr. Leena Sharma of Northwestern University's Feinberg School of Medicine in Chicago, about 70 percent of the force transmitted to a healthy knee while walking is focused on the inside of the knee. Therefore, when the knee faces outward, as in the varus alignment, there is even greater stress on the inside of the knee, which may increase the risk of osteoarthritis.
"Our results suggest the need to design interventions for people with varus alignment, in hopes of redistributing stress and possibly helping to prevent knee arthritis before it develops," Sharma stated in the news release.
Osteoarthritis of the knees affects 6.1 percent of all adults over 30 years of age, the U.S. Centers for Disease Control and Prevention has reported.
More information
The U.S. Agency for Healthcare Research and Quality has more about knee osteoarthritis.
Source: HealthDay
​