Health Highlights: Nov. 9, 2011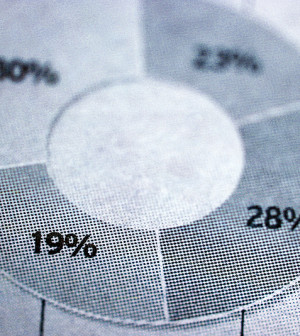 Here are some of the latest health and medical news developments, compiled by the editors of HealthDay:
Drug Maker to Run New Clinical Trial on Cholesterol Med
A new clinical trial of the cholesterol medicine Trilipix will be conducted by drug maker Abbott Laboratories after a U.S. government-sponsored study found that the drug may not reduce heart attack or stroke risk.
The Food and Drug Administration told the company to conduct the new trial, which will compare high-risk patients taking Trilipix and statin drugs to patients taking statins only, Bloomberg News reported. Statins also target cholesterol.
In May, an FDA advisory panel recommended the new trial and also said that Trilipix should remain on the market.
The FDA said patients should not stop taking Trilipix without first talking to a doctor, Bloomberg reported.
—–
More U.S. Seniors Getting Pneumonia Vaccination
The number of elderly Americans who have ever been vaccinated against pneumonia increased from 53 percent in 2000 to 60 percent in 2008, a federal government report says.
But it also found that high-income seniors (65 percent) in 2008 were much more likely than those with low incomes (46 percent) to have ever been vaccinated against pneumonia, which is a leading cause of death among seniors in the United States.
Also in 2008, 64 percent of seniors who live in medium-size cities had ever been vaccinated against pneumonia, compared with 52 percent of those in large inner city areas, where residents tend to be low-income and minority, according to the latest News and Numbers from the Agency for Healthcare Research and Quality.
There were also racial disparities. The proportion of seniors in 2008 who had ever been vaccinated against pneumonia was 65 percent for whites, 46 percent for Asians, 45 percent for blacks and 37 percent for Hispanics.
—–
New Skin Cancer Prevention Guidelines Focus on Counselling to Youth
Doctors should appeal to young people's vanity in order to convince them to reduce their sun exposure, the U.S. Preventive Services Task Force says in draft recommendations released Wednesday.
For example, showing youth ages 10 to 24 how too much sun exposure can affect their facial appearance now and later in life can be much more effective than warning them about skin cancer.
"We now have a reasonable level of evidence that we are able to change behavior in teens and young adults with a variety of counseling approaches that were appearance-based," task force chair Virginia Moyer told the Wall Street Journal.
"When you tell a 14-year-old that he or she should avoid excessive sun so they won't get skin cancer when they are old, they don't worry because they don't think they are ever going to get old," noted Moyer, a professor of pediatrics and head of the Academic General Pediatrics Section at Baylor College of Medicine in Texas. "But they are worried about their appearance now."
One intervention that's been shown to be effective involves using a UV camera to show youth people how sun exposure is already changing the skin on their face, the Wall Street Journal reported.
—–
Mississippi 'Personhood' Proposal Defeated
Mississippi voters have rejected a measure that would have banned all abortions and many forms of birth control.
The so-called "personhood" amendment would have changed the state's definition of life "to include every human being from the moment of fertilization, cloning or the functional equivalent thereof," The New York Times reported.
Evangelical Christians and other supporters said the amendment would stop the murder of innocent life and its passage would have increased support for similar laws in other states.
Opposition to the proposal was led by the American Civil Liberties Union and Planned Parenthood. They said the amendment would have outlawed all abortions, including pregnancies that were the result of rape or incest or those that put a mother's life in danger.
Opponents also said the proposal would have barred morning-after pills and certain types of birth control such as IUDs, and could have put restrictions on in-vitro fertility procedures, The Times reported.
"The message from Mississippi is clear," Nancy Keenan, president of NARAL Pro-Choice America, said in a statement. "An amendment that allows politicians to further interfere in our personal, private medical decisions, including a woman's right to choose safe, legal abortion, is unacceptable."
The Mississippi proposal sparked an intense national debate and even divided the country's anti-abortion movement. It was opposed by the National Right to Life and Roman Catholic bishops because they were concerned it would be defeated in a U.S. Supreme Court appeal and damage their efforts to chip away at abortion rights, The Times reported.
—–
Vatican Joins Venture to Boost Use of Adult Stem Cells
The Vatican and a small American biotech company have partnered to host a conference this week to promote the use of adult stem cells to treat disease, instead of using embryonic stem cells.
The conference, which will include patients, scientists, biotech CEOs and cardinals, was organized by the Vatican's culture office and New York-based NeoStem Inc., the Associated Press reported.
The Vatican opposes embryonic stem cell research because embryos are destroyed in the process.
The partnership with NeoStem is part of the Vatican's $1 million, five-year effort to promote adult stem cell research and therapies, the AP reported.
—–
Safety of Electronic Health Records Requires
Scrutiny: Panel
Patient safety is threatened by poorly designed, hard-to-use computerized health records, a federal study warns.
The Institute of Medicine paper released Tuesday also said an independent agency should be established to investigate injuries and deaths associated with health information technology, The New York Times reported.
The federal government is offering doctors and hospitals billions of dollars in incentive payments in order to get them to use electronic health records.
The study was requested by the Department of Health and Humans Services after some public health experts and doctors warned that the push for digital records might lead to a surge of technology-induced medical errors, The Times reported.
"There are real safety issues, but we believe that on average, health information technology improves patient safety," said study panel member Dr. Ashish K. Jha, an associate professor at the Harvard School of Public Health.
—–
Genetic Test Improves Cancer Treatment
A genetic test for cancer cell mutations helps focus and improve treatment for patients with lung cancer, according to a new study.
The test identifies mutations that enable cancer cells to divide and multiple unchecked. These mutations can then be targeted with drugs that block the enzyme that drives this cancer cell proliferation, Agence France-Presse reported.
Researchers analyzed tissue taken from 589 patients with non-small cell lung cancer and identified one or more mutations in just over half of the samples.
Of the 353 patients with advanced cancer, the researchers were able to pinpoint one or more mutations in 170 patients. This led to targeted therapy for 78 of the patients, AFP reported.
The research was published in the journal Annals of Oncology.
The genetic test was so
successful that it's now being used for colorectal, breast and brain cancer patients, and is being evaluated for use in leukemia patients, AFP reported.
—–
​