Health Highlights: Nov. 9, 2010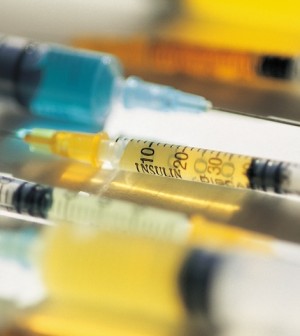 Here are some of the latest health and medical news developments, compiled by the editors of HealthDay:
FDA Managers Cleared of Wrongdoing
U.S. Food and Drug Administration managers did not pressure or harass agency scientists into approving medical devices such as CT scanners and MRI machines against their judgment, according to federal investigators.
This is the second time this year that the allegations have been dismissed by the office of inspector general for the Department of Health and Human Services, which oversees the FDA, the Associated Press reported.
After the first finding was released in February, the inspector general agreed to reopen the investigation at the request of advocacy groups and federal lawmakers, who said the first investigation was too narrow in scope.
In a one-page memo dated Oct. 14, the inspector general says the second investigation found "no evidence of retaliation" against the agency's medical device reviewers and concludes that "this case is closed," the AP reported.
The nine current and former FDA scientists alleged that managers improperly overruled their opinions about medical devices and attempted to intimidate them when they made their concerns public.
—–
New AMA Policy Covers Physicians' Use of Social Media
Privacy and appropriate conduct are major points included in a newly released American Medical Association policy about physicians' use of social media.
"Using social media can help physicians create a professional presence online, express their personal views and foster relationships, but it can also create new challenges for the patient-physician relationship," Dr. Mary Anne McCaffree, an AMA board member, said in an association news release. "The AMA's new policy outlines a number of considerations physicians should weigh when building or maintaining a presence online."
The policy recommends physicians:
Use the strongest possible privacy settings to safeguard personal information and content.
Routinely check that personal and professional information on their own sites and content posted about them by others is accurate and appropriate.
Maintain appropriate boundaries of the patient-physician relationship when interacting with patients online and ensure patient privacy and confidentiality.
Consider separating personal and professional content online.
Understand that online actions and content can harm their reputations among patients and colleagues, and may even damage their medical careers.
—–
Fast Food Chains Doing Nothing to Fight Childhood Obesity: Study
Fast food chains have failed to keep their promise to fight childhood obesity and have actually increased their marketing to children, says a new study by Yale University's Rudd Center for Food Policy and Obesity.
The researchers looked at more than 3,000 possible kids' meal combinations at major fast food chains and found that only 12 meet nutritional guidelines for pre-schoolers, CBS News reported.
They also found increased marketing to youngsters. For example, children ages 6 to 11 last year saw 26 percent more ads for McDonald's than they did two years earlier.
Marketing isn't limited to television ads. McDonald's has 13 different Web sites that are visited by a total of 365,000 children and 294,000 teens each month, CBS News reported.
"If you look at television alone the average preschooler sees 2.8 ads on TV for fast food every day," said the Rudd Center's Jennifer Harris.
"The industry has been promising for years that it would do something about this," Allen Kanner, co-founder of Campaign for a Commercial-Free Childhood, told CBS News. "Self regulation is a trick, it's a farce, it's a joke."
—–
FDA Recommends Ways to Reduce CT Radiation Overdose
Companies that make CT scanners need to improve training and education of equipment operators, says the U.S. Food and Drug Administration.
In addition, CT machines should warn operators that a dangerously high radiation dose is about to be administered to a patient, the agency said.
The recommendations are the result of the FDA's year-long investigation into hundreds of radiation overdoses in Alabama and California patients undergoing a CT brain perfusion scan, which is used to diagnose stroke, The New York Times reported.
The overdoses were not caused by equipment failure, but rather by improper use of CT scanners, the FDA concluded.
The agency plans to discuss its recommendations with CT manufacturers at the end of November and said it expects the companies to act on at least some of them, the Times reported.
—–
U.S. Faces Big Increase in Aging Drivers
Ensuring the safety and mobility of aging baby boomer drivers poses a major challenge, according to experts.
The issue is the focus of a two-day forum being hosted by the U.S. National Transportation Safety Board, which says that more than one in five licensed drivers will soon be 65 or older, the Associated Press reported.
The number of licensed drivers age 65 and older will increase from 30 million today to about 57 million in 2030, the Government Accountability Office estimates.
While improved cars and roads may help older drivers stay behind the wheel longer, eventually most of them will outlive their ability to drive. That could strand those who live in suburban homes.
"For many, our homes will not be just a place to age, it will also be house arrest," Joseph Coughlin, head of the Massachusetts Institute of Technology's AgeLab, told the AP.
—–
Cholera Confirmed in Haiti's Capital
Health authorities on Monday announced the first confirmed case of cholera in Haiti's capital and said that more than 100 other residents of Port-au-Prince are being tested for the disease.
Cholera was confirmed in a 3-year-old boy who hasn't been out of the city, the Associated Press reported.
Since the cholera epidemic was discovered in late October, there have been 8,138 recorded cases and at least 544 deaths. Until now, no cases have been confirmed within the limits of Port-au-Prince, which is home to about 3 million people.
Health officials have long worried about the spread of cholera into the capital city. In preparation, efforts have been made to establish clinics and inform residents about preventive measures such as regular hand-washing and the need to thoroughly cook food, the AP reported.
​