Health Highlights: July 21, 2011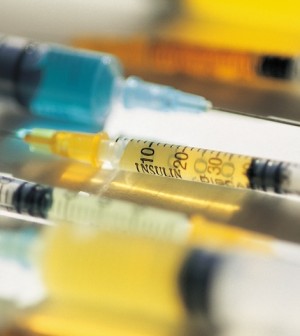 Here are some of the latest health and medical news developments, compiled by the editors of HealthDay:
FDA Evaluating Some Osteoporosis Drugs for Possible Cancer Link
Studies on oral bisphosphonate drugs used to treat osteoporosis are being reviewed by the U.S. Food and Drug Administration, which is investigating whether there's a link between the bone-disease medicines and an increased risk of esophageal cancer, the agency said Thursday.
The FDA, citing "conflicting findings" from past studies, said it hasn't found proof of a link between the drugs and esophageal cancer. But the agency said in a news release that it would "continue to evaluate all available data supporting the safety and effectiveness of bisphosphonate drugs and will update the public when more information becomes available."
The U.S. National Institutes of Health says more than 40 million women in the United States have osteoporosis "or are at high risk due to low bone mass."
People taking a bisphosphonate who develop symptoms including "swallowing difficulties, chest pain, new or worsening heartburn, or have trouble or pain when swallowing" should contact a physician, the FDA advised. Candidates for these drugs also should speak with a doctor "about the benefits and risks of taking oral bisphosphonates and how long they should expect to take them," the agency added.
—–
Gay Men With HIV at Increased Risk of Hepatitis C
While it's considered rare to acquire the hepatitis C virus via sexual intercourse, a new study finds that gay men infected with HIV who have unprotected sex are at increased risk of transmitting hepatitis C, the U.S. Centers for Disease Control and Prevention said Thursday, citing a new study.
In the agency's Morbidity and Mortality Weekly Report, CDC researchers working with scientists from the Mount Sinai School of Medicine said they uncovered "substantial evidence" of hepatitis C transmission during unprotected gay sex. Hepatitis C primarily is transmitted through exposure to blood and by drug users who share needles.
The researchers said that between 2005 and 2010, they found 74 men infected with HIV — the virus that causes AIDS — who had documented new infection with hepatitis C. These men reported no other risk factor for hepatitis C infection.
But when compared with other gay men who were HIV-positive but hadn't contracted hepatitis C, the men with recent hepatitis C infection were 23 times more likely than the other group to have had unprotected anal sex, the study found.
"The good news," wrote the researchers, "is that the cure rate for new [hepatitis C] infection is very high with early treatment, but without regular testing of the men at risk, these largely asymptomatic infections may be missed."
—–
Fewer Americans See Smoking as Risky: Survey
Fewer Americans perceived a serious risk from smoking a pack of cigarettes a day in 2008-2009 than they did in 2007-2008, a nationwide survey by the U.S. Substance Abuse and Mental Health Services Administration released Thursday found.
The percentage of people who perceived a serious smoking risk dropped from 73.7 percent to 72.3 percent among all survey participants. Teens showed an even greater drop in perceived smoking risk during the span, from 69.3 percent in 2007-2008 to 67.7 percent in 2008-2009, the survey found. No state posted in an increase in the perceived risk of smoking, an agency news release said.
The National Survey on Drug Use and Health interviewed more than 137,000 people during 2008-2009. Among the report's additional findings:
No state reported an increase in illicit drug use between 2002-2003 and 2008-2009. Among people aged 12 to 17, illicit drug use fell in 17 states during the period.
The 10 states and the District of Columbia that had the highest rates of illicit drug use during the prior month among people 12 and older also led the nation in marijuana use during the same period. In alphabetical order, those locales were: Alaska, Colorado, District of Columbia, Hawaii, Maine, Massachusetts, New Hampshire, Oregon, Rhode Island and Vermont.
Between 2007-2008 and 2008-2009, 11 states showed declines in cocaine use among people 12 and older.
Rhode Island led the United States in terms of the number of people age 18 and older with serious mental illness (7.2 percent), while Hawaii and South Dakota shared the lowest rate (3.5 percent).
—–
Heart Disease Tops Most Costly Conditions for Women
Heart disease leads the list of the costliest diseases and medical conditions among women in the United States, with expenses topping $43.6 billion, according to a report released Thursday by the U.S. Agency for Healthcare Research and Quality.
Published in the agency's regular News and Numbers report, the findings covered 2008, the most recent year for which statistics were available.
Rounding out the list of the top 10 most-costly conditions among women were:
Cancer
Mental disorders
Trauma-related disorders
Osteoarthritis
Chronic Obstructive Pulmonary Disease and asthma
High blood pressure
Diabetes
Back problems
High cholesterol
​