Health Highlights: July 14, 2011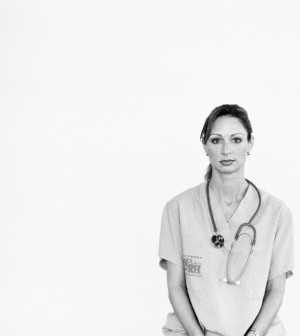 Here are some of the latest health and medical news developments, compiled by the editors of HealthDay:
Could Smelly Feet Be a Weapon Against Malaria?
Mosquito netting and bug spray are common weapons in Africa's fight against deadly malaria, but researchers now have identified another contender: smelly feet.
In a new project funded by the Gates Foundation, scientists will use foot odor to lure disease-carrying mosquitoes to a trap where they will be poisoned, the Associated Press reported Thursday. If successful, the project could lead to development of mosquito traps for widespread use outside the home, the news agency said.
Dr. Fredros Okumu, director of the research project at Tanzania's Ifakara Health Institute, said he combines eight chemicals to replicate the musky scent of human feet. He told the news agency his customized scent attracts four times as many mosquitoes as a human and that the poison eradicates nearly all of the flying insects.
It was actually a Dutch scientist who discovered the mosquitoes' fondness for feet, he said. Supposedly, the Dutchman undressed in an unlit room and then observed where he was bitten.
Each year, more than 220 million new cases of malaria occur worldwide and almost 800,000 deaths, the AP reported.
——
Restaurant Chains Making Kids' Meals Healthier
Starting Wednesday, healthier kids meals are coming out of the kitchens at 19 major U.S. restaurant chains participating in a new program called Kids Live Well.
The chains — Cracker Barrell, Burger King and Denny's, among them — have agreed to feature lower-fat, lower-sodium meals containing 600 or fewer calories including an entree, side dish and drink. In addition, only 35 percent of the calories can come from sugar.
These new children's menu choices will be designated by a red apple, USA Today reported.
Program sponsors are the National Restaurant Association and Healthy Dining.
"Kids can eat French fries, hamburgers and fried foods some of the time when they are eating out, but not all the time," Anita Jones-Mueller, founder of Healthy Dining, told USA Today.
—–
Prognosis Good for Man With First Double Leg Transplant
A surgeon who oversaw the world's first double leg transplant this week in Valencia, Spain, said if all goes well, the patient might be able to walk with crutches in as little as six months.
Recovery for the patient, who is in his 20s, will require extensive physical rehabilitation, said Dr. Pedro Cavadas, "If everything goes as we hope it does, it would be realistic to think that in six or seven months he could be walking" with crutches, Cavadas said at a news conference, the Associated Press reported.
The next few days will be critical in establishing strong blood flow in the new legs, experts said. "If the blood supply stops, the limbs are gone," Dr. Nadey Hakim, surgical director of the West London Transplant Unit at Hammersmith Hospital in England, told the AP. Hakim was not involved in the 10-hour operation that began Sunday night.
According to Cavadas, the patient lost his legs well above the knees in an accident. He provided no details about the donor.
Previously, arms, hands and even faces have been transplanted.
​