Health Highlights: Feb. 5, 2010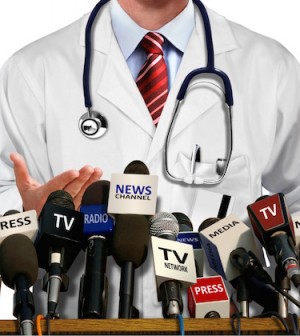 Here are some of the latest health and medical news developments, compiled by the editors of HealthDay:
Drug May Help Men With Bent Penis Disorder
The injectable drug Xiaflex may benefit men with Peyronie's disease, a difficult-to-treat condition in which the penis is permanently bent. The disorder, which affects about 1 to 2 percent of men, causes pain and erectile dysfunction, and can make it difficult or impossible to have sexual intercourse.
This week, the U.S. Food and Drug Administration approved Xiaflex for treatment of claw hand, a condition that causes bent fingers. Research suggests the drug may also be effective in treating Peyronie's disease. Some experts believe the FDA's approval of the drug for claw hand may lead to off-label use for Peyronie's disease, ABC News reported.
Clinical trials found that injections of Xiaflex resulted in an average 29.7 percent improvement in curvature of the penis, compared with a placebo injection, according to Auxilium Pharmaceuticals, which is marketing the drug.
However, the company says it will discourage any off-label use of Xiaflex for treatment of Peyronie's disease, ABC News reported.
—–
New Rules for School Lunch Program Suppliers
New measures to guarantee the quality and safety of food purchased for the National School Lunch Program were announced Thursday by the U.S. Department of Agriculture.
The agency said it will tighten requirements on suppliers of ground beef, test the beef more often and more thoroughly, and improve communications within the USDA to "identify potential food safety issues" before children become ill from eating bad food, USA Today reported.
In addition, the USDA said it will be more thorough in reviewing the safety records of companies that supply food for school lunches and exclude those that have had repeated problems with their commercial food products.
The new rules are "a big deal," because they'll force companies to "play to a higher standard," food safety consultant David Theno told USA Today.
—–
Genes Hamper Efforts to Boost Physical Endurance: Study
Even with regular exercise, the genetic makeup of about 20 percent of people means they won't see much improvement in their physical endurance, according to a new study.
An international team of scientists examined the DNA of 473 people and had them complete 20 weeks of endurance training. About 15 percent to 20 percent of the participants had much smaller endurance improvements than expected, USA Today reported.
A combination of about 30 genes predict "to a significant extent" a person's aerobic response to endurance training, said the scientists. The study appears in the Journal of Applied Physiology.
The researchers noted that their findings about endurance don't mean that some people shouldn't bother exercising.
Physical activity offers benefits in many other areas, including heart rate, cholesterol levels, blood pressure and insulin metabolism, said study co-author Tuomo Rankinen, a scientist in the human genomics laboratory at the Pennington Biomedical Research Center in Baton Rouge, USA Today reported.
—–
Dissolvable Nicotine Products Concern Health Regulators
U.S. health officials are concerned about flavored, dissolvable tobacco products that are consumed like breath mints and may be especially tempting to children and young adults.
In letters to two tobacco companies, the Food and Drug Administration's Center for Tobacco Products said it is "concerned that children and adolescents may find dissolvable tobacco products particularly appealing, given the brightly colored packaging, candy-like appearance and easily concealable size of many of the products," the Associated Press reported.
The CTP said the products' nicotine content and rapid delivery in the body could lead to tobacco dependence and addiction and prove a threat to children and young adults.
The letters to R.J. Reynolds Tobacco Co. and Star Scientific Inc. ask the companies for their research and marketing information on how people under age 26 perceive and use dissolvable tobacco products, the AP reported.
The CTP also wants the companies' research findings about misuse of the products, including possible accidental nicotine poisoning.
—–
Toy Importer Pays $200K to Settle Lead Charges
U.S. consumer authorities say a Massachusetts-based company has agreed to pay $200,000 to settle charges it violated federal law by importing toys with high levels of lead in their paint.
The tens of thousands of toys imported by Schylling Associates Inc. of Rowley, Mass., included spinning top toys and tin pail toys with Thomas and Friends, Curious George, Winnie the Pooh and circus scene graphics, the Associated Press reported.
The Consumer Product Safety Commission said that Schylling knew or should have known by 2002 that most of the toys violated the U.S. lead paint ban, but only reported the toys to the CPSC in 2007. Later that year, it was announced that the company was recalling the toys.
In agreeing to the settlement, the company said it did knowingly violate the law, the AP reported.
​