Health Highlights: Feb. 19, 2010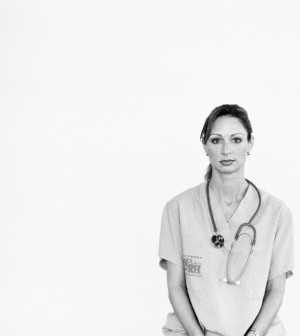 Here are some of the latest health and medical news developments, compiled by the editors of HealthDay:
Obama Administration Details Healthy Food Financing Initiative
Making good on its goal to bring healthy foods into poor neighborhoods, Obama administration officials on Friday laid out the details of the $400 million Healthy Food Financing Initiative.
The initiative, which dovetails with First Lady Michelle Obama's Let's Move! campaign to battle childhood obesity in the United States, will provide financing and technical assistance to companies that bring healthy foods to urban and rural communities in dire need of nutritious alternatives, according to the Associated Press.
The initiative, a partnership between the departments of the U.S. Treasury, Agriculture and Health and Human Services, was launched in Philadelphia by Treasury Secretary Tim Geithner and Agriculture Secretary Tom Vilsack, the wire service said.
Efforts will include developing and equipping grocery stores and other small businesses and retailers selling healthy food in communities that currently lack these choices. These low-income communities, often referred to as "food deserts," are usually populated by fast food restaurants and convenience stores that offer little or no fresh produce. Lack of healthy, affordable foods can contribute to obesity and the diet-related diseases that follow, such as diabetes, heart disease and cancer.
The goal is to reach all of these underserved communities, creating new jobs in the process, within seven years, administration officials noted.
"Our effort to improve access to healthy and affordable food is a critically important step toward First Lady Michelle Obama's goal to solve the challenge of childhood obesity within a generation," said Agriculture Secretary Vilsack. "The Healthy Food Financing Initiative will enhance access to healthy and affordable choices in struggling urban and rural communities, create jobs and economic development, and establish market opportunities for farmers and ranchers."
An estimated 23.5 million people, including 6.5 million children, live in low-income areas where they are more than a mile from a supermarket. Of the 23.5 million, 11.5 million are low-income individuals in households with incomes at or below 200 percent of the poverty line, government statistics show.
—–
Big Hike in Premiums for Medicare Advantage Plan
Millions of older Americans face large increases in their premiums for private health plans through Medicare, says a study to be released Friday by the data analysis firm Avalere Health.
It says premiums for Medicare Advantage plans that offer medical and prescription drug coverage rose an average of 14.2 percent in 2010, compared with 5.2 percent rise in 2009, the Associated Press reported.
About 8.5 million elderly and disabled people are enrolled in the plans.
"These premium increases fit within a broader trend of increased financial pressure on the insured," said Lindsey Spindle, a vice president of Avalere Health, the AP reported. "We see very large premium increases and a continued upward creep in how much out-of-pocket expenses beneficiaries are expected to pay, such as copayments."
—–
Put Safety First, Crib and Toy Makers Told
Companies that make and sell cribs, toys and other children's products must make safety a priority or face strong government action, says the head of the U.S. Consumer Product Safety Commission.
"If you resist our efforts to recall children's products, be forewarned: This commission stands ready to be creative in the use of our enforcement authorities," Inez Tenenbaum said Wednesday in a speech to the International Consumer Product Health and Safety Organization, CBS News reported.
Under product safety legislation passed in 2008, the CPSC has new powers "and we are not afraid to use them," Tenenbaum said in her most pointed warning since becoming the agency's chairwoman eight months ago.
The new law includes strict limits on lead paint, lead and phthalates (chemicals used to soften plastics), as well as tighter regulation of certain products, CBS News reported.
In her speech, Tenenbaum also pledged new safety rules for cribs. CPSC mandatory standards for cribs haven't been updated since 1982. About seven million cribs have been recalled in the United States since 2007, and there have been a number of crib-related infant deaths.
—–
Medical Marijuana Benefits MS, Spinal Cord Patients: Report
Marijuana helps ease muscle spasms caused by multiple sclerosis and pain caused by certain neurological illnesses or spinal cord injuries, says a report released Wednesday by the Center for Medicinal Cannabis Research at the University of California, San Diego.
The document includes the findings of five studies that included participants who were randomly selected to receive either marijuana or placebos, the Associated Press reported.
"There is good evidence now that cannabinoids may be either an adjunct or a first-line treatment," psychiatrist Igor Grant, the director of the research center, said at a press conference where he presented the study results.
The California Legislature created the center in 2000 to investigate claims about the effectiveness of medical marijuana. California is the only state to sponsor such research, the AP reported.
—–
Exjade to Carry Warning
A boxed warning will be added to Exjade (deferasirox), a drug used to treat chronic iron overload caused by blood transfusions in patients 2 years of age and older, says the U.S. Food and Drug Administration.
The new boxed warning will alert patients that Exjade may impair kidney or liver function or cause gastrointestinal bleeding. In some cases, these problems could be fatal, said the FDA, United Press International reported.
In addition, the new information has been added to the contraindications, warnings, precautions and drug interactions sections of the prescribing information for physicians, the FDA said.
Exjade is marketed by Novartis Oncology, UPI reported.
—–
Fake Pills Can Have Real Effect: Experts
Evidence is mounting that placebos (fake treatments) have an actual biological effect in the body, say international experts who conducted a review of the latest research.
The review authors said things such as the expectation of recovery and the doctor-patient relationship may sometimes trigger changes in a patient's brain, body and behavior, the Associated Press reported.
For example, some studies found that giving dummy pills to Parkinson's disease patients caused their brains to release the feel-good chemical dopamine. They also showed other changes in brain activity.
The review appears in The Lancet.
"When you think youre going to get a drug that helps, your brain reacts as if its getting relief," Walter Brown, a clinical professor of psychiatry at Brown University School of Medicine and Tufts University School of Medicine, told the AP. "But we dont know how that thought that youre going to get better actually translates into something happening in the brain."
​