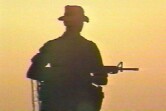 FRIDAY, Feb. 28, 2014 (HealthDay News) — There may be a link between poor sleep quality and reduced gray matter in the brains of Gulf War veterans, a new study suggests.
Using MRI scans and a sleep quality assessment, researchers found that sleep disturbances among 144 Gulf War vets were associated with less gray matter in the frontal lobe — the part of the brain involved in working memory and higher-level thinking.
The findings were published Feb. 28 in the journal Sleep.
Although the study does not prove that one causes the other, the researchers suggested their findings could shed light on the association between poor sleep quality and problems with psychosocial, physical and occupational functioning.
"Previous imaging studies have suggested that sleep disturbances may be associated with structural brain changes in certain regions of the frontal lobe," study lead author Linda Chao said in a news release from the American Academy of Sleep Medicine.
"The surprising thing about this study is that it suggests poor sleep quality is associated with reduced gray matter volume throughout the entire frontal lobe, and also globally in the brain," added Chao, who is an associate adjunct professor in the departments of radiology and biomedical imaging and psychiatry at the University of California, San Francisco.
Poor sleep quality was linked to less gray matter, even after other possible factors were considered, the investigators noted. These factors included depression, post-traumatic stress disorder, Gulf War illness, trauma and use of drugs to treat mental illness.
The study authors concluded more research is needed to determine if treating disrupted sleep can improve the structure and function of the brain's frontal lobes.
More information
The U.S. National Heart, Lung, and Blood Institute provides more information on the importance of sleep.