Brain Injury May Raise Soldier's Epilepsy Risk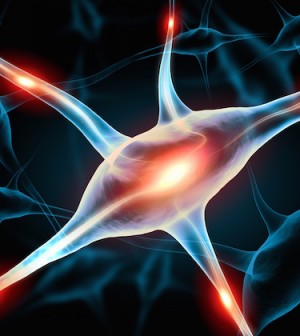 TUESDAY, July 20A wartime brain injury may increase a soldier's risk of epilepsy even years later, a new study finds.
"Not only do combat veterans with a penetrating traumatic brain injury have high rates of epilepsy, but the development of epilepsy can occur decades after their lesion," said lead researcher Jordan Grafman, a senior investigator at the U.S. National Institute of Neurological Disorders and Stroke.
And for those whose epilepsy develops soon after their brain injury, the seizures can become more severe as time passes, Grafman said.
The report, published in the July 20 issue of Neurology, recommends long-term medical follow-up of soldiers who suffer brain injuries.
For the study, Grafman's group evaluated 199 Vietnam War veterans who had had a penetrating brain injury about 35 years earlier. The veterans were given intelligence tests and brain scans to uncover lesions.
The researchers found that 87 veterans had developed post-traumatic epilepsy. In 11 cases, it took more than 14 years for the epilepsy to show up.
In some cases, the type of seizure changed over time, often becoming more severe or causing loss of consciousness, the team discovered.
Among young adults, post-traumatic epilepsy is the most common cause of new epilepsy, with almost 30,000 new cases diagnosed each year in the United States, the researchers pointed out.
"Post-traumatic epilepsy can be a chronic issue after traumatic brain injury and can affect cognitive and social functions as combat vets age," Grafman said. "Consideration needs to be given to providing combat veterans with TBI [traumatic brain injury] careful and routine evaluations for epilepsy," he added.
Dr. L. James Willmore, co-author of an accompanying journal editorial, said this report and earlier studies point out several risk factors for epilepsy, including brain volume loss from the trauma, metal fragments that remain within the brain, and the presence of a hematoma associated with the initial injury.
Seizures that develop after head trauma tend to be difficult to treat effectively, and patients tend to have persistent seizures once they develop, said Willmore, an associate dean and professor of neurology at Saint Louis University School of Medicine.
"Post-traumatic epilepsy has been known since antiquity, and researchers have yet to learn how to prevent its development following severe trauma, whether in combat or among the civilian population," Willmore said.
More information
For more information on epilepsy, visit the U.S. National Library of Medicine.
Source: HealthDay
​