As Hurricane Earl Hits East Coast, Residents Urged to Brace Themselves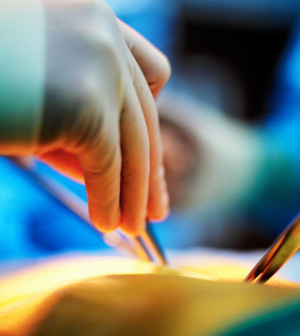 FRIDAY, Sept. 3As Hurricane Earl roared up the U.S. east coast Friday, federal officials urged residents to take steps to protect themselves and their property.
The storm, which had weakened from a category 4 to a category 1 hurricane, raced past North Carolina's Outer Banks, a fragile chain of barrier islands, early Friday morning, and was expected to hit Massachusetts' Cape Cod later in the day.
But people should know that storm tracks can change quickly and unexpectedly, Federal Emergency Management Agency (FEMA) officials said.
All residents should take measures to be prepared and ensure their safety, advised FEMA Administrator Craig Fugate. Steps include putting together an emergency kit with 72 hours worth of food and water, developing a family communications plan, and listening to the radio or TV for information about risks and evacuations.
Among other federal government recommendations if the hurricane is likely to strike your area:
Ensure a supply of water for sanitary purposes such as cleaning and flushing toilets. Fill the bathtub and other large containers with water.
Close storm shutters and secure outdoor objects or bring them indoors. If you don't have shutters, board up windows with 5/8-inch marine plywood, cut to fit and ready to install. Putting tape on windows does not prevent them from breaking.
To reduce roof damage, install straps or additional clips to securely fasten your roof to the frame structure.
Clear clogged rain gutters so they won't overflow.
Turn off propane tanks.
If you have a boat, moor it.
Turn off utilities if told to do so. Otherwise, set the refrigerator thermostat to its coldest level and keep its door(s) closed.
People should evacuate under the following conditions:
If you are told to do so by local authorities. Follow their instructions.
If you live in a mobile home or temporary structure.
If you live in a high-rise building. Hurricane winds are stronger at higher elevations.
If you live on the coast, on a floodplain, near a river, or on an inland waterway.
If you feel you are in danger.
If you are unable to evacuate, go to your safe room. If you do not have a safe room, you should:
Stay indoors during the hurricane and keep away from windows and glass doors.
Secure and brace external doors and close all interior doors.
Keep curtains and blinds closed.
Take refuge in a small interior room, closet or hallway on the lowest level. Lie on the floor under a table or another sturdy object.
Don't be fooled if there is a lull in the hurricane. It could be the eye of the storm, which will be followed by a resumption of extreme winds.
More information
The U.S. government's Ready America Web site has more about staying safe during a hurricane.
Source: HealthDay
​