Pre-Season Test Spots Baseball Pitchers at Risk of Injury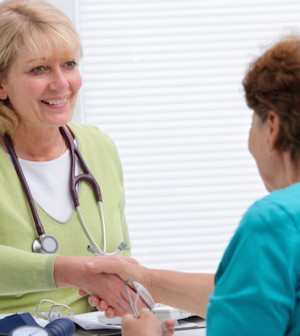 THURSDAY, March 11As another baseball season nears, researchers report that preseason measurements of rotator cuff strength can help team doctors spot those pitchers at high risk of developing a shoulder injury during play.
"We found certain parts of the rotator cuff where, if they are weaker, players are more likely to incur injury that requires surgery," said lead author Dr. Ian Byram, an orthopedic resident physician at Nashville's Vanderbilt Medical Center.
Shoulder and elbow injuries are the two most common types of injuries for professional pitchers, and they are the two leading reasons for pitchers landing on the disabled list, Byram noted.
Famous pitchers on that list have included some who came back from their injury — such as Pedro Martinez, who pitched for the Philadelphia Phillies last season — and some who never made it back — like Los Angeles Dodgers Hall of Famer Don Drysdale.
In the study, Byram and colleagues followed pitchers playing for the Colorado Rockies over a five-year period from 2001 to 2005, testing their strength using a device called a dynamometer as the players performed four different shoulder exercises.
Pitchers who displayed muscle weakness in one of three exercises during the preseason were at risk of suffering an in-season shoulder injury that would require surgery, Byram said.
The exercises that helped predict shoulder injury included prone external rotation (lying face down on a bench and rotating the arm), seated external rotation (similar exercise while seated) and supraspinatus (an upper arm muscle) lifts.
Pitchers also were at high risk of shoulder injury if the internal rotation strength in their shoulders had outpaced their external rotation strength.
"When there's a relatively overstrengthened internal rotation, that imbalance can lead to tissue damage and injury," Byram said.
The study was to be presented Thursday at the annual meeting of the American Academy of Orthopaedic Surgeons in New Orleans.
According to Byram, there's a tendency for pitchers to overdevelop the internal rotators of their shoulders because those are the muscles that speed the arm forward.
"They act to move the arm from the cocked position forward," he said. "With each throw, the internal rotators are maximally stretched and maximally contracted. The internal rotators undergo plyometric strengthening during the throwing motion."
The external rotators work to decelerate the arm at the end of the pitch.
Byram noted that the study only involved professional athletes. "We're careful not to say these results are translatable to the Little League pitcher or an amateur player," he said. "There are so many other causes for overuse injuries, particularly in younger players, that it's hard to extrapolate these findings to those players."
But the research provides support for efforts at the collegiate and professional level to perform preseason screening of athletes and prescribe exercise regimens that can help players avoid injury, according to Dr. Margot Putukian, director of athletic medicine services and a team physician at Princeton University.
"It kind of confirms why we do what we do," Putukian said. "If you see some of this weakness, you can say, 'We need to work on this more because you're at increased risk of injury.' Research like this can provide buy-in from the athlete, since you can tell them you're doing what you're doing to prevent injury."
Princeton has 38 different sports programs, and Putukian works closely with nearly all of them. She said it's common to find muscle weaknesses that could lead to injury if they aren't addressed in preseason training.
"I'm amazed what we see in terms of some our measures preseason in terms of flexibility and strength and core strength," she said. "You have a lot of athletes at the college level that come in from high school and all they've done is chest exercises so they look good on the beach. They've ignored their back and their core."
Byram said he hopes to expand his research to other baseball teams so that more can be learned about specific weaknesses and how they might lead to different injuries.
"One of our primary goals is to identify at-risk players and focus rehabilitation efforts on them to hopefully prevent injury," he said. "If we can help localize some of the factors that play into a player being injured, we can help prevent those injuries."
More information
Find out more about shoulder injuries at the American Academy of Orthopaedic Surgeons.
Source: HealthDay
​