Exercise Helps Teens Overcome 'Obesity Gene'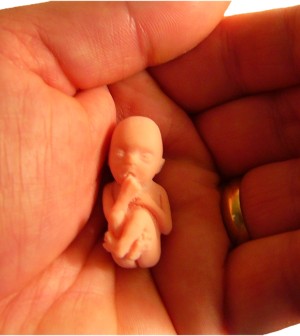 MONDAY, April 5Does carrying a gene tied to obesity doom a teenager to becoming obese? Not if that teen stays physically active, a new study shows.
Among genes related to obesity, mutations in the so-called fat mass-and-obesity-associated gene (FTO) appear to be particularly important. In fact, each copy of a mutation in this gene has been tied to an average jump in weight of about 3.3 pounds, the researchers say.
However, an hour of physical activity a day largely negated the gene's effect, the new study found.
"These findings have important public health implications, and indicate that meeting the physical activity recommendations may offset the genetic predisposition to obesity associated with the FTO [gene variant] in adolescents," said lead researcher Jonatan R. Ruiz, a scientist in physical activity and fitness epidemiology at the Karolinska Institute in Huddinge, Sweden.
The report is published in the April issue of the Archives of Pediatrics & Adolescent Medicine.
For the study, Ruiz's team collected data on 752 teens who took part in the Healthy Lifestyles in Europe by Nutrition in Adolescence Cross-Sectional Study, which was conducted in 10 European countries between October 2006 and December 2007.
Among these teens, 37 percent did not have FTO mutations, 47 percent had one copy and 16 percent had two copies. Copies of the mutation were linked with higher body mass index (BMI). BMI is a measure of weight divided by height. Statistically, a BMI of 25 is considered the threshold for overweight while a BMI of 30 is the threshold for obesity.
Copies of the gene mutation were also linked with a higher percentage of body fat and a larger waist.
For teens who got at least an hour of physical activity each day, the effect of the obesity-linked gene mutation on weight was much smaller, Ruiz said.
For each copy of the mutated gene, those who exercised had an average BMI that was only 0.17 points higher than teens with no mutations. In comparison, teens who did not exercise for at least 60 minutes daily had a BMI that was 0.65 points higher for each copy of the gene, compared to those with no mutations.
Exercise also helped trim back gene-linked increases in body fat mass and waist circumference, the study found.
Ruiz' advice to teens worried about excessive weight gain? "Be active. Try to do at least 60 minutes of moderate and vigorous physical activity every day — like playing sports," he said.
Samantha Heller, a Connecticut-based dietitian, nutritionist and exercise physiologist, commented that, "since few of us will ever get our genes tested, the take-home message from this study is that children and adolescents need to be physically active and eat a healthy diet."
While we are stuck with our genetic makeup, our lifestyles can either magnify or minimize many genetic tendencies, Heller said.
"If a person has a gene predisposing them to obesity yet they eat healthfully, exercise regularly and adopt other healthy lifestyle behaviors, they are stacking the deck [in their favor] in maintaining a healthy weight and avoiding chronic diseases," she said.
However, too many youngsters are losing touch with the fundamental joy of engaging in physical activities, Heller added.
"Whether it is a formal team sport or playing tag, playing catch or riding bicycles, the human body is designed to move," she said.
When this natural instinct is muted by spending hours playing computer games, watching TV or sitting around, so too is the body's innate ability to stay healthy, Heller said.
"The cycle of weight gain, sedentary lifestyle and poor diet can be tough to break free from, but it is absolutely doable if the whole family is committed to and takes part in the process of reinventing their lifestyle to a healthier one. The rewards are tremendous," she said.
More information
For more on childhood obesity, visit the U.S. National Library of Medicine.
Source: HealthDay
​