Vaccines-By-Patch Good News for Needle-Phobic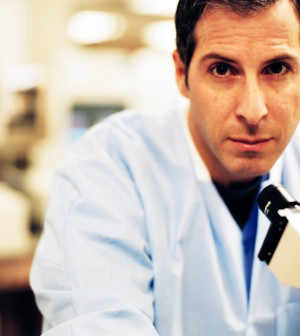 MONDAY, April 5Scientists say they've figured out how to vaccinate a person without using a needle, potentially giving the public one less excuse to avoid getting immunized.
The new technique, reported in the April 1 issue of the German journal Angewandte Chemie, relies on the use of a patch that administers the vaccine with the help of a special molecule.
While some people can take some vaccines orally, most have to be injected directly into a muscle.
Victor C. Yang, a researcher at the University of Michigan, and colleagues developed a protein that can pass through the outer membranes of cells into the interior, carrying the vaccine with it.
The researchers noted that it may be possible for people to get booster vaccinations without needing to even visit a doctor. They may be able to use patches that they administer themselves.
If patients cooperate, this could make it easier to vaccinate people in poor areas of the world where it is difficult to get access to medical care.
More information
The U.S. Centers for Disease Control and Prevention has full details about vaccines.
Source: HealthDay
​