Commuters: Pedal Your Way to Better Heart Health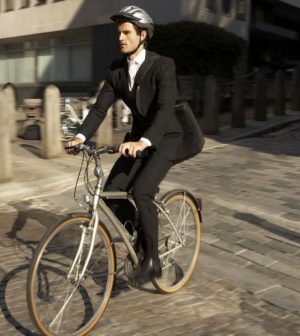 Ditching the car and biking or walking to work just might cut your risk of developing heart disease and even dying from it.
So says a new British study that finds a person's risk of heart disease or stroke falls 11 percent and their risk of dying from these diseases falls by 30 percent, just by exercising on their way to work.
"Walking, cycling and even using public transport are all more physically active than using the car, so switching to one of these modes of transport can help you be more active and healthy," said researcher Oliver Mytton. He's a clinical lecturer in public health at the University of Cambridge.
But Mytton cautioned that this study didn't prove that a physically active commute will lower your risk of heart disease or stroke, only that there seems to be a connection.
"This was an observational study, so we can't say definitively that car use causes harm," he said.
To calculate the effect of walking or biking to work, Mytton and his colleagues collected data on nearly 359,000 people who took part in the U.K. Biobank, which is designed to track the health of adults in urban areas of Great Britain.
Between 2006 and 2010, participants were followed an average of seven years, and about two-thirds of the commuters used their cars exclusively to get to work.
Mytton's team also found that those who walked or biked to work and also walked or biked when not going to work had a 43 percent lower risk of developing heart disease than those who chose a more sedentary lifestyle.
Even among those who didn't commute regularly, more active means of travel were tied to an 8 percent lower risk of dying, Mytton added.
In analyzing their findings, the researchers took into account factors such as participants' other physical activity, fruit and vegetable consumption and socioeconomic status.
"The study provides further evidence that swapping car use for more active forms of travel is beneficial for health," Mytton said.
Although the health benefits of physical activity are widely recognized, many adults still don't get enough exercise, said April Mohanty, a visiting instructor at the University of Utah's Division of Epidemiology.
"Assuming the environment supports more active travel routines, such as accessible, safe bike and walking paths, incorporating physical activity into travel, even for only part of the journey, may be a convenient strategy to improve health," said Mohanty, who wrote an editorial accompanying the study.
The findings were published online May 21 in the journal Heart.
More information
For more on the benefits of exercise, visit the American Heart Association.
Are You Living with Psoriasis?
A growing knowledge of the skin disease called psoriasis is leading to greater treatment choices, including personalized therapies, the U.S. Food and Drug Administration reports.
Psoriasis is an immune system disorder that causes overproduction of skin cells, resulting in scaling, pain, swelling, redness and heat. The condition affects about 7.5 million Americans.
"As we better understand the disease, researchers know more about what specific factors to target in order to develop effective treatments," FDA dermatologist Dr. Melinda McCord said in an agency news release.
There is no cure for psoriasis, so the main goals of treatments are to stop skin cell overproduction and reduce inflammation. Current therapies include medicines applied to the skin (topical), light treatment (phototherapy), or drugs taken by mouth or given by injection.
Doctors used to take a step-by-step approach, starting patients with mild to moderate psoriasis on topical therapy. If that was ineffective, doctors moved on to phototherapy or drug treatment.
​