Back-to-School Shouldn't Mean a Too-Heavy Backpack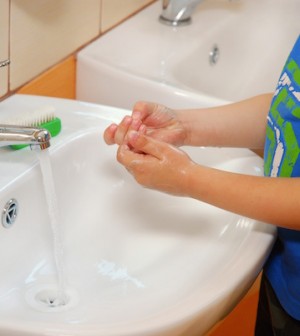 SATURDAY, Aug. 27As another school year begins, parents are reminded that kids' backpacks weighted down with books and other supplies can lead to back injury.
"Parents should inspect their child's backpack from time to time. They often carry much more than they should with extra shoes, toys, electronic devices and other unnecessary items," Dr. Joshua Hyman, director of orthopedic surgery at New York-Presbyterian/Morgan Stanley Children's Hospital, said in a hospital news release.
"A backpack shouldn't weigh more than 15 percent of the child's weight, or about 7 pounds for a child who weighs 50 pounds. If it is textbooks that are making the bag too heavy, parents should speak with the teacher — sometimes these books can be left at school," added Hyman, who is also associate professor of orthopedic surgery at Columbia University College of Physicians and Surgeons.
To reduce the risk of injury, children should wear their backpack correctly over both shoulders to evenly distribute the weight. A wheeled backpack is another option.
If a child who wears a backpack has persistent pain, parents should consult their pediatrician. Physical therapy to strengthen the child's back muscles may be one of the recommendations, according to Hyman.
He said signs of trouble include posture changes when a child wears a backpack, difficulty putting it on, or any pain, tingling or red marks.
More information
The American Academy of Orthopaedic Surgeons has more about backpack safety for children.
Source: HealthDay
​