Swine Flu Wanes, But Future Uncertain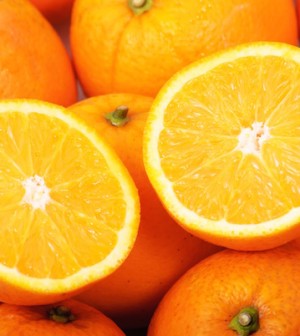 THURSDAY, Dec. 17As the current wave of H1N1 swine flu continues to wane, U.S. health officials on Thursday urged that everyone get vaccinated in case another outbreak strikes this winter.
And now that shortages of the H1N1 flu vaccine have eased, it's an ideal time to get vaccinated, Secretary of Health and Human Services Secretary Kathleen Sebelius said during a morning press conference.
"Our message is, take advantage of the increased supply and get vaccinated as soon as you can," she said.
Anyone who wants to be vaccinated can, Sebelius said, since the vaccine is no longer reserved for just those at high risk for catching the H1N1 flu.
High-risk groups include children, pregnant women, young adults and anyone with a chronic health condition. In addition, health-care workers and people who take care of infants are a high priority for the H1N1 vaccine.
By next week, 100 million doses of vaccine will be available, Sebelius said. Today, 99 million doses are available, she added. Earlier, the U.S. Centers for Disease Control and Prevention said the total number of doses is expected to reach 190 million.
Speaking at the press conference, CDC Director Dr. Thomas Frieden said that "whether we have seen the last of swine flu isn't known."
"We have an ebbing second wave, but an uncertain future," Frieden said. "We don't know how many cases there will be between now, which is traditionally the beginning of the flu season, and May, when flu season traditionally ends."
Some experts think there will be lots more cases, while others think there won't be a resurgence of the swine flu, Frieden said. "Others think we don't know. That's probably the most accurate thing to admit," he said. "Only the future will tell what the future brings."
The swine flu continues to hit children and young adults the hardest. The CDC estimates that from April, when the swine flu first appeared, to the middle of November, 47 million Americans had come down with the virus.
Over the same eight months, nearly 10,000 people died from the H1N1 flu and the disease sent 213,000 people to the hospital, Frieden said.
"This has been a strain of influenza that's been much harder on children and young adults," Frieden said. "In fact, the number of children and young adults killed through mid-November was five times more than an average flu season."
Dr. Margaret Hamburg, commissioner of Food and Drugs of the U.S. Food and Drug Administration, noted during the press conference that the H1N1 swine flu vaccine is safe.
"We are working with [the] CDC and others to keep a close watch on any unexpected rare serious adverse events that might be related to vaccines," she said. "Now, tens of millions of people have been vaccinated, and I am happy to report that there have not been safety concerns."
Hamburg noted that the FDA has also cracked down on people making money by offering phony cures or protection against the H1N1 flu.
"To date, we have sent over 80 official warnings covering about 145 different products," she said. "We have gotten a large majority of these products removed from commerce."
More information
For more on the H1N1 swine flu, visit Flu.gov.
Source: HealthDay
​