Scientists Link Molecule to Severe Swine Flu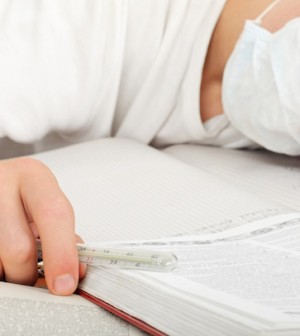 THURSDAY, Dec. 17Some people develop severe pneumonia when infected with the swine flu virus, and researchers say they've found a clue as to why.
A key to the severity of the illness appears to be a molecule called interleukin 17 (TH17), which helps the immune system fight off germs and disease. Researchers who analyzed levels of the molecule in swine-flu patients at 10 Spanish hospitals last summer found the highest levels in the blood of those with severe illness and the lowest in people with milder forms of the disease.
Their findings are published in the December issue of the Journal of Critical Care.
"In rare cases, the virus causes lung infections, requiring patients to be treated in hospital," the lead researcher, Dr. David Kelvin, a professor of immunology at the University of Toronto said in a university news release. "By targeting or blocking TH17 in the future, we could potentially reduce the amount of inflammation in the lungs and speed up recovery."
He estimated that it will take years to figure out how to use the information garnered from the research to help patients.
However, a test might appear sooner, he said. "A diagnostic test could let us know early who is at risk for the severe form of this illness quickly," Kelvin said.
More information
The U.S. Centers for Disease Control and Prevention has more on H1N1 flu.
Source: HealthDay
​