Stopping Daily Aspirin Boosts Heart Attack Risk: Study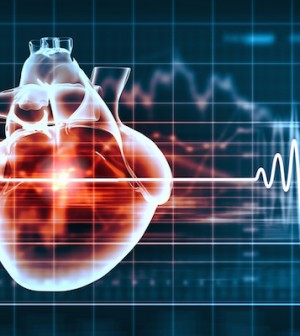 TUESDAY, July 19People with heart disease who stop taking their daily low-dose aspirin may put themselves at a greater risk of having a heart attack, a new study finds.
Aspirin taken daily in a low dose (typically between 75 and 300 milligrams) is recommended to help prevent blood clots in patients with heart disease. Yet as many as 50 percent of patients stop taking their aspirin, the researchers noted. This can result in an increased risk of heart problems, but little is known about whether there is an increased risk for heart attack specifically.
The new study suggests heart attack risk does rise when low-dose aspirin is discontinued. Therefore, patients "should be advised that unless there is a high risk of serious bleeding or otherwise recommended by a doctor, aspirin should never be discontinued given its overwhelming benefits," said lead researcher Dr. Luis Garcia Rodriguez, director of the Spanish Center for Pharmacoepidemiologic Research in Madrid.
"Also, patients who need to discontinue aspirin should do so for the minimum time necessary," he added.
The report was published in the July 19 online edition of the BMJ.
For the study, Rodriguez's team collected data on more than 39,500 patients, 50 to 84 years of age, who were part of the Health Improvement Network — a large database of medical records in the United Kingdom.
Between 2000 and 2007, the patients were prescribed low-dose aspirin (75 to 300 milligrams per day) to prevent heart attack and other cardiac complications.
Over about 3 years of follow-up, Garcia Rodriguez's team found that those who stopped taking aspirin experienced a 60 percent rise in their risk of non-fatal heart attack. That result held true regardless of how long the patients had taken aspirin before they decided to stop.
According to the researchers, the finding translates into four additional heart attacks for every 1,000 patients during the year they stopped taking their aspirin.
"Our study highlights the need for greater awareness of the increased risk of cardiovascular events, such as [heart attack], that is associated with interruption of aspirin therapy," Garcia Rodriguez said.
"If adherence to low-dose aspirin could be improved, the benefit obtained with low-dose aspirin in the general population would be increased," he added.
Dr. Giuseppe Biondi-Zoccai, assistant professor of cardiology at the University of Modena and Reggio Emilia in Modena, Italy, and co-author of an accompanying journal editorial, said that "aspirin is indeed a wonderful drug."
Low-dose aspirin reduces illness and death from heart disease, pulmonary embolism (clots in the lung) and colorectal cancer, he said. It is also remarkably safe, if one avoids it in those at risk of allergic or bleeding complications, and it is cheap, which is also a major plus.
In addition, aspirin helps prevent recurrent events in patients who have already suffered from coronary artery disease, Biondi-Zoccai, said.
"Discontinuing aspirin in such patients is very harmful," he added. "Indeed, patients on aspirin, because they have already suffered from a coronary artery event, face a major health hazard if aspirin is discontinued, even only temporarily, and even if several months or years have passed from their initial heart problem."
Another expert, Dr. Gregg C. Fonarow, a professor of cardiology at the University of California, Los Angeles, agreed.
"While aspirin use can increase the risk of bleeding, for most patients with known vascular disease the benefits of daily low dose aspirin exceed the potential risks," he said. "Individuals with cardiovascular disease should understand the benefits of long term aspirin use and that discontinuing their aspirin regimen places them at increased risk for subsequent cardiovascular events. Patients should not discontinue aspirin therapy unless under the advice of their physician to do so."
More information
For more information on heart disease and aspirin, visit the American Heart Association.
Source: HealthDay
​