Oxycontin Abusers Often Rely on 'Leftover' Meds From Friends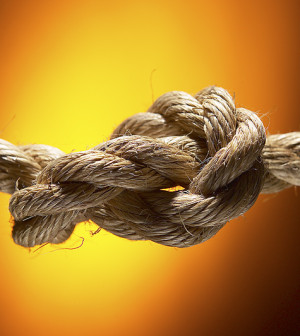 THURSDAY, Feb. 18Almost all people who illegally use or abuse opioid painkillers such as Oxycontin or Vicodin get the drugs from a friend or relative who had a prescription, a new report shows.
In the study, which involved a 2008 survey of more than 5,300 Utah adults, almost 2 percent of respondents said they had taken an opioid pain medicine not prescribed to them over the past year.
Ninety-seven percent of the time, the drug came from a friend or relative, and in most cases the drug was handed over willingly.
The study is published in the Feb. 19 issue of the U.S. Center for Disease Control and Prevention's Morbidity and Mortality Weekly Report.
Many Utah residents do have at least one prescription for opioid painkillers, according to the Utah Department of Health researchers.
"We found that one in five patients are prescribed opioids and the majority of those have leftover medication," said report co-author Erin Johnson, project coodinator for the department's Pain Medication Management & Education Program.
The majority of patients (71 percent) keep their leftover medication, she added.
Johnson and her team warned that holding on to unused prescription opioid painkillers can result in fatal overdoses, especially among people who were not prescribed the drugs.
According to the report, 85.2 percent of people who used an opioid without a prescription said the drug was given to them by someone who did have a prescription, and 9.8 percent said they took the medication without the knowledge or permission of the owner. Only 4.1 percent said they had bought the drug.
"With all these excess pills, there is a great likelihood of misuse and abuse that could result from that," Johnson said. "So dispose of your leftover pain medication immediately," she added.
From 1999 to 2007, deaths in Utah from poisoning by prescription pain drugs increased almost 600 percent, from 39 in 1999 to 261 in 2007, according to the report.
Johnson pointed out that any misuse of a prescription in Utah is a felony. That even includes taking your prescribed medication for an illness or pain episode other than what it was prescribed for.
The best thing to do with leftover opioids: throw them out, Johnson said. "The recommended way is to mix the pills with something undesirable in a separate bag and take the bottle and cross out any identifying information and throw that away separately," she said.
Although the U.S. Food and Drug Administration recommends flushing unused prescription drugs, in Utah experts would prefer that people do not dispose of medicines this way, to avoid contaminating the environment, Johnson said.
In Utah, police stations also have drop boxes to collect unused medications, she added.
Johnson noted that most people are reluctant to get rid of their unused drugs. The main reason: They paid for these drugs and may need them again, she said.
Although enforcing drug disposal is hard, Johnson hopes that public awareness of the dangers of keeping unused opioids around will encourage people to dispose of these drugs.
In addition, Utah is trying to get doctors to prescribe only the number of pills they think a patient will need to deal with their pain, Johnson said.
"It not a big deal for someone to call in and say they are running low," she said. "The doctors are understanding and they will write more."
Dr. James Garbutt, a professor of psychiatry at the University of North Carolina at Chapel Hill, said that, "increased use and misuse of opioid medication is a significant health problem."
Overdose deaths from opioids have risen significantly over the past 10 years, and "this a particular problem in young people who are not aware of the risks of these medications," he noted.
"The net effect is that more opioid medications are available, and perhaps one consequence of this is that more individuals are getting into trouble with opioid medications," he said.
The Utah report encourages physicians to only use opioids when clearly indicated, not to prescribe excessive quantities, to avoid long-acting opioids such as Oxycontin unless needed, and to encourage patients to discard leftover medication, Garbutt said.
"The report is more evidence of the increasing problem of opioid misuse in the United States. This problem is costing lives, including the lives of young healthy people," he said. "Education of both physicians and the public is needed."
More information
For more information on how to dispose of medications, visit the U.S. Food and Drug Administration.
Source: HealthDay
​