New Drug, Pradaxa, May Prevent Second Stroke in Certain Heart Patients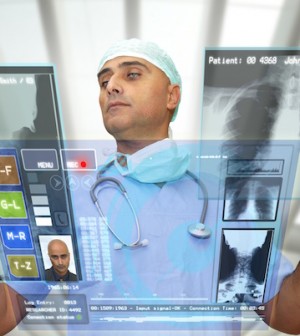 MONDAY, Nov. 8Among certain patients with a history of stroke or mini-stroke, a new anticlotting medication called Pradaxa (dabigatran) appears to be as effective as the anticoagulant drug warfarin at preventing a second stroke, new German research reveals.
Specifically, the new study suggests that Pradaxa can reduce the risk of a second stroke as effectively as warfarin among those facing an elevated risk for stroke or arterial blood clot (systemic embolism) as a result of having atrial fibrillation, the most common form of abnormal heart rhythm (or cardiac arrhythmia).
What's more, depending on the dosage used, Pradaxa appeared to fare at least as well or better than warfarin in terms of limiting the risk for bleeding — a known warfarin side effect.
Pradaxa was recently approved by the U.S. Food and Drug Administration — at a dosage of 150 milligrams — for the prevention of first stroke among atrial fibrillation patients.
The current effort took a look at the drug in two twice-daily dosages of either 110 mg or 150 mg among more than 3,600 atrial fibrillation patients, all of whom had previously experienced a stroke or a mini-stroke, also known as a transient ischemic attack.
All of the patients had participated in the larger Randomized Evaluation of Long-Term Anticoagulation Therapy study, which had included more than 18,000 people, 80 percent of whom had no prior history of stroke.
Last year, results of a prior analysis concerning this full study group indicated that at the lower dosage, Pradaxa was as effective at reducing stroke risk as warfarin, while the higher dosage provided even better stroke protection than warfarin.
The new study, published in the Nov. 8 online edition of The Lancet Neurology, was led by Dr. Hans-Christoph Diener from the department of neurology at University Hospital Essen in Essen, Germany.
Diener and his associates focused solely on a smaller subgroup (taken from the larger trial) that had a history of stroke and, therefore, a relatively higher risk for future stroke.
Among such particularly vulnerable patients, the study team found that both dosages of Pradaxa were more or less as effective as warfarin at controlling recurrent stroke risk.
In particular, the lower dosage of Pradaxa (110 mg) was also linked to significant reduction in the rate of vascular death as well as death from all causes, the researchers reported.
However, while major bleeding was also "significantly lower" among the 110-mg Pradaxa group when compared with warfarin patients, the higher dosage of 150 mg of Pradaxa twice daily prompted a bleeding risk that was as high as that found among warfarin patients.
Diener and his colleagues remain unclear as to exactly why the lower dose of Pradaxa prompts a lower rate of bleeding than warfarin, although they speculate that at that dose the drug may not cross the central nervous system's blood-brain barrier, resulting in an improved safety profile.
"In choosing the dose of dabigatran, physicians need to trade off the benefits of stroke prevention against the risk of hemorrhage," the study authors advised in a news release from the publisher.
"In general, strokes are more severe than major hemorrhages and have more significant long-term consequences," Diener's team added. "The dose of 150-mg dabigatran twice daily could be preferred to 110-mg twice daily because it significantly reduces the risk of ischemic stroke without increasing the risk of hemorrhagic stroke."
Meanwhile, the British research team of Dr. Gregory Y.H. Lip and Deirdre A. Lane, both from the University of Birmingham Centre for Cardiovascular Sciences, offered commentary on the new findings in the same issue of the journal. They wrote: "Because of the necessary trade-off between stroke prevention and bleeding with both doses of dabigatran, consultation with patients regarding their preferences for treatment dose will be even more important to ascertain their threshold for stroke prevention over increased bleeding risk or vice versa."
The study was funded by Boehringer-Ingelheim, which makes Pradaxa.
More information
For more on stroke risk, visit the American Heart Association.
Source: HealthDay
​