Rush Victims of Deadliest Heart Attacks to Specialty Centers: Study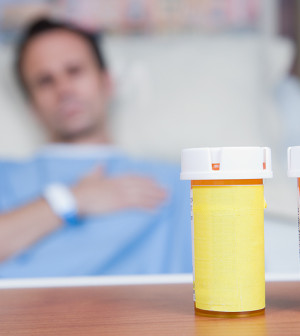 TUESDAY, July 27New research may shed some light on the ongoing public health debate regarding how to minimize the death rate from the most serious kinds of heart attacks, while also limiting health care costs.
One option under consideration is increasing the number of hospitals that are equipped to perform life-saving coronary angioplasty procedures, known as percutaneous coronary interventions (or PCI) — a technique that offers these heart attack patients a better chance of survival and fewer complications than the standard treatment of clot-busting drugs.
But the new research suggests that rather than preparing more hospitals to offer the intervention, heart attack patients would have a better chance of survival if they were rushed by emergency medical services (EMS) to the closest available facility already equipped to offer PCI treatment.
The findings — which suggest the latter is also the best way to keep health costs down — were published online July 27 in Circulation: Cardiovascular Quality and Outcomes.
Earlier research has found that PCI is the best way to handle the deadliest kind of heart attack — known as ST-segment elevation myocardial infarction, or STEMI — which is caused by near-complete blockage of a coronary artery.
For that reason, the researchers used computer-simulation to evaluate strategies to make PCI interventions available to more patients — since only one in four U.S. hospitals is currently equipped with the special labs needed to perform the procedure.
The computer simulation looked at 2,000 hypothetical cases of STEMI patients brought to care by various routes in Dallas.
The investigators found that standard ambulance delivery of patients to the nearest existing PCI care center was twice as effective and 20 times less expensive than expanding PCI availability to facilities not currently able to offer the intervention.
"Expanding patient access to PCI is critical to improving outcomes after heart attack, and there are a range of approaches to accomplish this," study lead author Thomas W. Concannon, assistant professor at the Institute for Clinical Research and Health Policy Studies at Tufts Medical Center in Boston, noted in a news release from the American Heart Association.
"Our study is the first to compare an EMS strategy of ambulance diversion to a number of hospital-based PCI expansion strategies," he added.
More information
For more on PCI, visit the American Heart Association.
Source: HealthDay
Are You Living with Psoriasis?
A growing knowledge of the skin disease called psoriasis is leading to greater treatment choices, including personalized therapies, the U.S. Food and Drug Administration reports.
Psoriasis is an immune system disorder that causes overproduction of skin cells, resulting in scaling, pain, swelling, redness and heat. The condition affects about 7.5 million Americans.
"As we better understand the disease, researchers know more about what specific factors to target in order to develop effective treatments," FDA dermatologist Dr. Melinda McCord said in an agency news release.
There is no cure for psoriasis, so the main goals of treatments are to stop skin cell overproduction and reduce inflammation. Current therapies include medicines applied to the skin (topical), light treatment (phototherapy), or drugs taken by mouth or given by injection.
Doctors used to take a step-by-step approach, starting patients with mild to moderate psoriasis on topical therapy. If that was ineffective, doctors moved on to phototherapy or drug treatment.
​