Technology May Explain Mammogram's Poorer Performance in Younger Women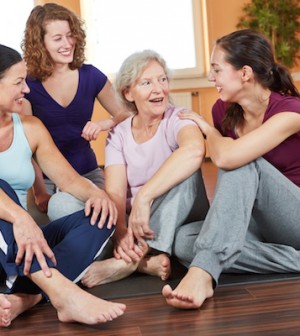 TUESDAY, July 27The poorer tumor detection rate offered by mammography for women in their 40s is due more to the technology itself than characteristics of a younger woman's cancer, according to a new study.
For years, experts have known that mammography's performance is poorer for women in their 40s versus older women, and they've placed much of the blame on the notion that tumors typically grow faster in younger women.
That would mean that by the time they are at a size detectable by mammogram, these tumors would have already been detected by a routine clinical exam, anyway. Younger women's breast tissue is also denser, which can make it easier for tumors to "hide" on a mammogram.
But others have suspected that mammography's poorer performance among younger women is due more to the limits of the technology.
The issue is particularly pressing since experts at the U.S. Preventive Services Task Force updated their breast cancer screening guidelines last November. Those guidelines advised that normal-risk women in their 40s no longer get a yearly mammogram. The decision set off a firestorm of controversy that has not yet abated.
In the meantime, why are mammograms less apt to spot disease in younger women?
"I set out to find out — is it the difference in [women's] biology or technology?" said Sylvia Plevritis, associate professor of radiology at the Stanford University School of Medicine, Stanford, Calif.
With her colleagues, she developed a breast cancer screening simulator, a computer simulation model that could estimate the relative contributions of factors such as tumor growth versus tumor detectability on a mammogram.
Plevritis drew on data for about 100,000 women from the SEER database (Surveillance, Epidemiology and End Results), a widely used source of health information. Her team looked at women aged 40 to 49 and women aged 50 to 69.
"This analysis says the limiting factor is not the difference in doubling time of the breast cancer," Plevritis concluded. "The limiting factor is the ability of the mammogram to detect the tumor."
She pointed out that she studied women who had conventional mammograms only. "Technology with conventional mammography is just not sensitive enough," Plevritis said. "That explains 79 percent of the reduced detection rate." The characteristics of the cancer itself in younger women account for just 21 percent of the shortfall in detection, the model found.
The findings were published online July 27 in the The Journal of the National Cancer Institute.
Plevritis said that because she evaluated women who had conventional mammography only, the results may be different with more advanced digital mammography. Some research has found digital more accurate in detecting tumors in women 40 to 49, she said.
That's beyond the scope of her paper, "but our work is suggesting that the performance of digital mammography in younger women will make a difference," Plevritis said.
Another limitation of her study, she said, is that they looked at only invasive disease, not the early form of breast cancer known as ductal carcinoma in situ or DCIS. "The natural history of DCIS is not well understood," she said.
For now, she said, younger women below age 50 might consider asking for digital mammograms. Advances in technologies are needed, she said, to better detect breast cancers in younger women.
More information
There's more on breast cancer screening at the American Cancer Society.
Source: HealthDay
​