Risks of Kids' Surgeries May Not Stick With Parents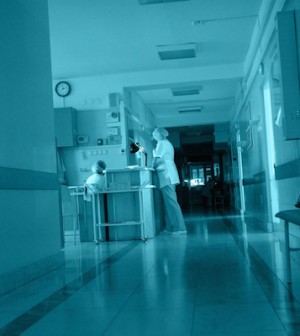 WEDNESDAY, March 17Even detailed counseling by doctors doesn't seem to help parents of children having surgery understand or remember all the risks of the procedures, researchers have found.
Before a child can have surgery, a parent or legal guardian must give what's called informed consent. The process has four main elements: disclosure, comprehension, competence and voluntary choice.
"To meet these criteria, the physician must openly communicate to the patient a clear description of the procedure and the goals and benefits of that procedure as well as the risks of, and all alternatives to, surgery," wrote Dr. Daniel P. Nadeau and his colleagues at Walter Reed Army Medical Center. "In the case of pediatric patients, the parents or legal guardians must be counseled concerning their child's surgery."
To assess the process, the researchers focused on 34 parents whose children were having a tonsillectomy or having tubes placed in their ears. The standard informed consent procedure was followed for all of the parents, but 16 also were given detailed information aids. Immediately after counseling and again on the day of their child's surgery, the parents filled out questionnaires designed to assess their knowledge of the procedure and how well they remembered nine specific surgical risks.
On average, there were 6.3 days between the time parents were counseled about risk and their child's surgery. Overall, parents in both groups recalled about 58 percent of the nine surgical risks immediately after counseling and 57 percent on the day of the surgery. But parents who had also received detailed information aids did better at remembering the risks both before and on the day of surgery, recalling six (compared with 4.4, on average) before surgery and 6.25 (vs. 4.17) on the day of surgery.
In both groups, parents with lower education levels remembered more risks than better-educated parents. Mothers remembered more risks than fathers.
"Although formal counseling with detailed data sheets does improve patient surgical risk recall, no parent was able to recall 100 percent [nine of nine] of the intended surgical risks," the researchers wrote. "The overall risk recall rate for this study was 57.5 percent, which is largely disappointing given the effort that was put forth to improve recall."
"Clearly, more efforts need to be made by physicians to study this process to better understand the factors that may affect the informed consent process, with the goal of patients and parents being better informed of the basic risks before surgery," they concluded.
The study was published in the March issue of Archives of Otolaryngology — Head & Neck Surgery.
More information
The Nemours Foundation has more about children's surgery.
Source: HealthDay
​