Rapid Flu Test Most Accurate for Young Kids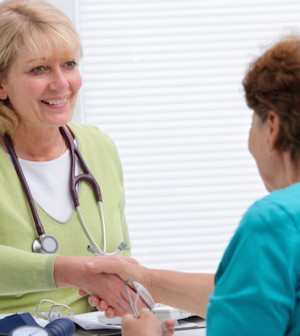 MONDAY, Feb. 15A widely available rapid influenza diagnostic test is good, but not perfect, in determining whether a child has the flu, a new study shows.
The findings are applicable to both the seasonal flu and the H1N1 flu that recently swept across the globe, said Dr. Andrea T. Cruz, an assistant professor of pediatrics at Baylor College of Medicine in Houston, and lead author of a report published online Feb. 15 in the journal Pediatrics.
The study examined records of more than 2,600 children taken to the hospital with suspected influenza between May and September of 2009 and compared the results of a rapid influenza diagnostic test, which can give results in minutes, with two laboratory tests that require hours or days for diagnosis. A quick diagnosis is often desirable, but questions have arisen about the accuracy of the rapid diagnosis tests.
The study used one of the 10 commercially available rapid tests approved by the U.S. Food and Drug Administration. It was done because "doctors have been basing clinical decisions on rapid influenza diagnostic tests that were not designed with H1N1 in mind," Cruz said.
The study compared the test's sensitivity (the ability to determine whether someone has an infection) and specificity (the ability to rule out the presence of an infection) with a laboratory test. The rapid test was 45 percent sensitive and 98.6 percent specific, the study found.
"The rapid influenza diagnostic test is quite specific but lacks sensitivity," Cruz said. That means a positive rapid test result was "highly accurate" in diagnosing H1N1 infection, but a negative result did not rule out the possibility of infection, the study found.
Sensitivity was significantly higher — 55.5 percent — in younger children, particularly those under 2 years old, a group more susceptible to flu complications.
"Especially for high-risk children, such as those with other illnesses such as asthma, who present with flu-like symptoms, you should consider treating them despite the results of a rapid test," Cruz said.
While reported cases of H1N1 influenza in the United States have dropped recently, the rapid-test study results "may help guide clinical decision-making when that third wave comes," Cruz said.
The latest report from the U.S Centers for Disease Control and Prevention said no state reported widespread flu activity, but six states were seeing regional activity and 10 states reported local activity.
The study results might not apply to all FDA-approved rapid diagnostic tests, Cruz said. "When you look overall at their sensitivity for seasonal flu, it varies between 50 and 95 percent," Cruz said. "It depends on what kind of test you are using versus what kind of patient you are testing."
The advantage of the rapid test is its availability, she said. "It's relatively simple. You don't require a skilled technician," she added.
"It's known that these are not perfect tests," said Dr. Nathan Litman, a professor of pediatrics at Albert Einstein School of Medicine and chief of pediatric infectious diseases at Montefiore Medical Center in New York City. "The thing about them is that they can rapidly identify about half of patients with influenza early on in the emergency room. But if this test is negative, there is still a chance they have influenza."
In practice, emergency patients suspected of having flu are started on drug therapy at Montefiore while a definitive laboratory test is done, Litman said. A final treatment decision is made after results of that test are available, which takes eight to 10 hours, he said.
More information
For the full H1N1 flu story, see the U.S. National Library of Medicine.
Source: HealthDay
​