Computers Help Beat Hospital Infections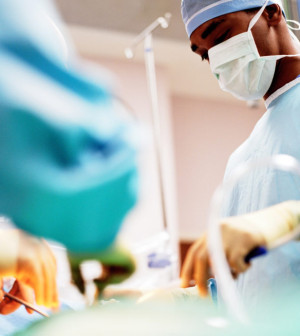 FRIDAY, July 16A new survey suggests that U.S. acute care hospitals can best minimize the risks for the spread of dangerous in-hospital infections if they harness automated computer technologies to quickly identify, track and respond to infections as they occur.
The survey of California acute care hospitals found that only one-third of them use automated computer systems that streamline the tracking of in-hospital infections by quickly identifying clusters of infections.
Those that do, however, were found to be more likely to have infection-combating strategies that public health officials have identified as the most effective means to reduce and prevent the spread of serious infections such as MRSA, ventilator-associated pneumonia and those associated with surgical procedures.
The finding stems from a phone survey of "quality directors" at more than 240 general acute care hospitals in California, representing more than 80 percent of all hospitals in the state.
Poll results — collected between 2008 and 2009 — were to be presented this week at the Association for Professionals in Infection Control and Epidemiology (APIC) meeting in New Orleans.
"Our findings suggest that hospitals that use automated surveillance technology are able to put more (healthcare-associated infection) elimination strategies into place that will ultimately reduce the risk of infection," study lead author Helen Halpin, a professor of health policy at the University of California, Berkeley, said in an APIC news release.
"Manual identification of infections is costly, time-consuming and diverts staff time from prevention activities," she added. "The advantages of automated surveillance are enormous in an era where the Centers for Medicare and Medicaid Services and many private insurers will no longer pay for the additional costs attributable to certain (healthcare-associated infections), and many states report infection rates publicly."
The authors stress that this does not mean that those hospitals with computer tracking systems experience fewer such infections, but rather that they are more likely to have established a "best practices" response to infection outbreaks than those facilities which rely on more low-tech manual tracking methods.
In its release, APIC cited World Health Organization estimates that every day, up to 1.4 million patients worldwide contract an infection in a healthcare setting. In the United States, hospital-associated infections cause 99,000 deaths and $30 to $40 billion in excess healthcare costs annually.
More information
For more on healthcare-associated infections visit the U.S. Centers for Disease Control and Prevention .
Source: HealthDay
​