Bar Codes Cut Down on Hospital Medication Errors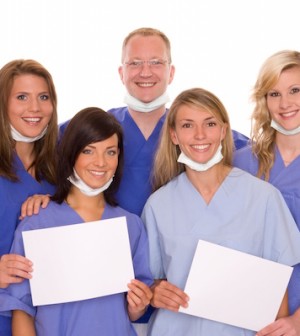 WEDNESDAY, May 5A system that checks medications and doses using bar codes significantly cuts down on hospital drug errors, researchers from Brigham and Women's Hospital in Boston report.
"We had the opportunity to design and implement a bar code-scanning system to ensure that every patient in the hospital gets the right medication at the right dose at the right time," said lead researcher Dr. Eric G. Poon, the hospital's director of clinical informatics.
"After implementing that new system, we found dramatic reductions in errors made during the process of administering medications," he added. Poon estimates that using this system prevents 90,000 serious errors each year.
The report is published in the May 6 issue of the New England Journal of Medicine.
The bar code-scanning system is a safeguard that helps prevent medication errors from the time a prescription is ordered through each time the drug is given.
Using the coding system with electronic medical records, medication orders appear electronically in the patient's chart after pharmacist approval. If giving a medication is overdue, an alert is sent to nurses electronically.
In addition, before nurses give medications they are required to scan the bar codes on the patient's wristband and then on the medication itself. Should the two not match the approved medication order, or if it is too soon for the patient's next dose, the nurse receives a warning.
For the study, Poon's team compared 6,723 medication administrations before the bar code system was in use with 7,318 medication administrations after the system was introduced.
The researchers found that bar codes reduced errors such as giving a medicine at the wrong time and giving patients the wrong dose.
They also found a 41 percent drop in administration errors and a 51 percent drop in potential adverse drug events.
In addition, errors in the timing of medication administration, such as giving a medication an hour or more off schedule, fell 27 percent. There were no errors or potential drug-related adverse events from this type of error, Poon's group noted.
The findings are important because the technology is being considered as a 2013 criterion for meaningful use of health information technology under the American Recovery and Reinvestment Act of 2009, the researchers noted.
Poon noted that cost is a barrier that deters many hospitals from implementing such a system. "Cost is always a concern," he said. Their system cost about $10 million, he noted.
Whether preventing errors saves money isn't known, but the study authors plan on doing a cost-benefit analysis of the system.
Dr. Chris Longhurst, medical director of clinical informatics at Lucile Packard Children's Hospital in Palo Alto, Calif., said that "this adds evidence to the mounting pile that the last piece guaranteeing or verifying medication safety is bar coding."
Longhurst's own study, published in the May 3 online edition of Pediatrics, showed that using a computerized doctor prescription system actually saves lives, reducing mortality by 20 percent.
These results of using the computerized system are very encouraging, Longhurst said. "In fact, we were seeing sicker and sicker children at our hospital, and yet seeing fewer and fewer who were dying," he said. "That's really the most surprising finding."
One reason lives are being saved is that the time from when a doctor writes a prescription until it is available to the patient has been cut significantly, Longhurst said.
"Another really important aspect is just simple access to information," he said.
Nir Menachemi, an associate professor and director of Health Care Organization and Policy at the University of Alabama School of Public Health in Birmingham, added that "this is not surprising — it's not rocket science."
"You improve a process, make it easier for people to do the right thing and harder for people to do the wrong thing, you will probably see some benefits," he said.
More information
For more information on medication errors, visit the Institute for Safe Medication Practices.
Source: HealthDay
​