Appetite Hormone Levels May Influence Weight 'Regain'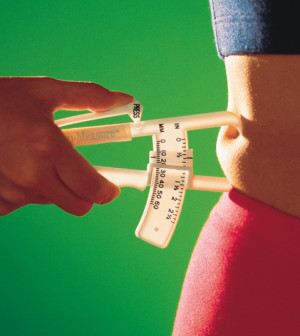 FRIDAY, Sept. 10 (HealthDay News) –Some dieters may be more likely than others to regain any excess pounds they've lost, depending on their particular hormonal makeup, new Spanish research cautions.
A certain combination of appetite hormones leptin and ghrelin appears to predispose some people to weight gain following a diet, the researchers found.
Study author Ana Crujeiras, of Complejo Hospitalario Universitario de Santiago in Spain, and her team report the finding in an upcoming issue of the Journal of Clinical Endocrinology & Metabolism.
The connection between appetite hormones such as ghrelin and leptin and long-range weight-loss complications stems from work with 104 obese and overweight men and women, all of whom embarked on an eight-week, low-calorie diet.
Before dieting, during the diet, and about four months post-diet, Crujeiras and her colleagues measured each participant's body weight and fasting plasma levels of ghrelin, leptin and insulin.
The bottom-line: Those with higher leptin and lower ghrelin levels before dieting were more likely to reacquire the lost weight after the diet ended.
"We believe this research may indicate that the outcome of weight therapy may be pre-conditioned," Crujeiras said in a news release from the Endocrine Society.
"Our findings may provide endocrinology and nutrition professionals a tool to identify individuals in need of specialized weight-loss programs that first target appetite hormone levels before beginning conventional dietary treatment," she added.
And while noting that "the long-term success of maintaining the weight lost is usually poor," Crujeiras suggested that the current observations "could be used as a tool to personalize weight-loss programs that could guarantee success in keeping off the weight."
More information
For more on appetite and digestion, visit the National Institute of Diabetes and Digestive and Kidney Diseases
Source: HealthDay
​