Number of Obese Adults Keeps Rising, CDC Says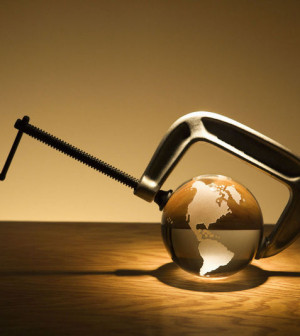 TUESDAY, Aug. 3America's waistline continues to widen.
As of 2009, almost 3 in every 10 adults (26.7 percent) is now statistically obese, up from 25.6 percent in 2007, according to a new government report released Tuesday.
The report, from the U.S. Centers for Disease Control and Prevention (CDC), also found that between 2007-2009, the number of U.S. states where at least 30 percent of the adult population is obese had tripled to nine from three. Ten years ago, no state had an obesity prevalence of 30 percent or more, according to the new report.
"Over the past several decades, obesity has increased faster than anyone could have imagined it would," CDC director Dr. Thomas R. Frieden said during a noon press conference Tuesday. "Obesity has doubled in adults and tripled in children. We need intensive and ongoing efforts to address obesity, or more people will get sick and die from the complications of obesity, such as heart disease, stroke, diabetes and cancer."
Although the federal goal of Healthy People 2000 was to have an obesity rate of 15 percent or less, not one of the 50 states managed to achieved that goal, Frieden noted.
According to the report, 2.4 million more American adults have reported becoming obese since the last such survey in 2007.
In addition, annual medical costs linked to obesity have soared to $147 billion in 2008, the researchers say. The care of an obese American now costs $1,429 more per year than that of a normal-weight person, the CDC team estimated.
The data in the report is culled from the Behavioral Risk Factor Surveillance System, which contains state-level public health data. In a phone survey, some 400,000 adults were queried on their height and weight, which researchers then used to calculate body mass index (BMI).
Obesity is defined as a BMI of 30 or more. For example, a 5-foot-4 woman weighing 174 pounds or more, or a 5-foot-10 man weighing 209 pounds or more would have a BMI of 30.
The new data could still underestimate the true level of obesity in the country, the researchers said. That's because many men and women often say they are taller than they are or say they weigh less than they do, especially in self-reporting surveys, the team said.
As a result, the estimate of 26.7 percent of adults being obese is lower than the national 2007-2008 estimate pegged at 33.9 percent, or almost 73 million people. According to Dr. William Dietz, director of CDC's Division of Nutrition, Physical Activity and Obesity, the latter (higher) estimate came from the U.S. National Health and Nutrition Examination Survey, in which participants' height and weight were actually measured by researchers.
According to this new report, obesity is hitting some segments of the population harder than others. Blacks have the highest rate of adult obesity at 36.8 percent overall, and 41.9 percent of black women are now obese, the survey found.
Among Hispanics, the obesity rate is 30.7 percent, and among whites 25.2 percent, according to the report.
Education may also play a role: Almost a third (32.9 percent) of people without a high school diploma are now obese, the report found.
And location seems to be a factor, too. In the South, 28.4 percent of adults are obese, while in the Midwest the rate is 28.2 percent. In the Northeast the rate is 24.3 percent, and for the West it's 24.4 percent.
Some states seem to be faring worse than others. While just under 19 percent of adults in Colorado are obese, that number jumps to 34.4 percent for adults from Mississippi. Only Colorado and the District of Columbia had obesity rates of less than 20 percent.
Initiatives needed to fight the obesity epidemic, according to Frieden, include:
Increase in physical activity.
Increased breast-feeding of infants.
Eating more fruits and vegetables.
Cutting TV and computer time.
Reducing intake of high-calorie foods, particularly sugary drinks.
"Obesity is a societal problem, and it will take a societal response," Frieden said.
Samantha Heller, a dietitian, nutritionist and exercise physiologist, said the nature of that response isn't clear.
"We know we have an obesity problem in the U.S. The question that frustrates health professionals is what to do about it," she said.
Health education remains a critical element of behavioral change. Making healthy foods available and affordable, creating green spaces for outdoor recreation and community programs to support people in need of health and nutrition counseling are also key pieces of the puzzle, Heller said.
"But it is a challenge to find the funding for programs like these. In this economy, people are tightening their money belts and cannot afford to shell out cash for what they perceive to be expensive nutrition or health counseling. Unfortunately as we tighten the money belt, we are adding notches to the belts around our waists," Heller said.
It's not that people are contented with being overweight, she added.
"In my experience people want to feel good and get healthy but do not know where to go to get help," Heller said.
More information
For more information on obesity, visit the U.S. National Institutes of Health.
Source: HealthDay
​